22.11.21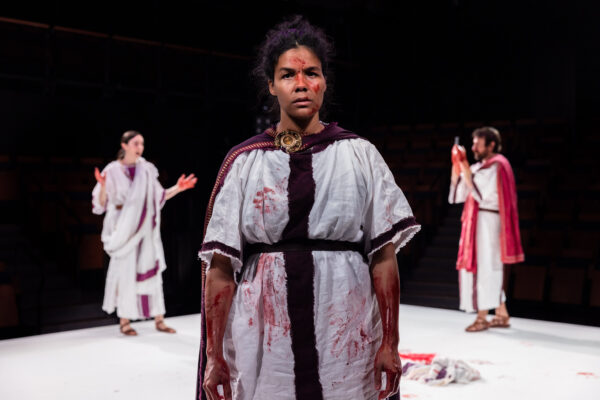 Sydney Theatre Company welcomes back passionate patrons of the arts with an unforgettable opening night of Kip Williams' reimagining the Shakespeare classic Julius Caesar— unveiling the astonishing cast of three: Geraldine Hakewill, Ewen Leslie and Zahra Newman.
With theatre being placed on pause, we can finally return at full capacity to view what was a breathtaking production by Williams, beautifully staged with designer Elizabeth Gadsby to reconfigure the Wharf 1 for theatre in the round, an immersive choice and a first in the renovated space.
Audiences are invited to observe a blending of media, previously seen in Williams' 2020 production of Oscar Wilde's The Picture of Dorian Gray, combining live theatre and film on stage. There is, however, one distinct difference that made the Julius Caesar opening night the knock-out it was – the stage was camera crew free!
In a contemporary twist alongside casual present-day costuming, each character adorns a smartphone used to film each other, or themselves, to capture multiple angles and perspectives. An ascending and descending cube, suspended over the stage, projects images, text, pre-recorded video, and live feeds from the actors' smartphones— regularly leaning into the absurdity of Caesar in selfie-mode. What could have been a distracting experience of flipping from in-performance acting to screen, and back, instead captivated the audience through intense close-ups, off-stage confrontations, and amusing absurdist Zoom calls (Video Designer David Bergman).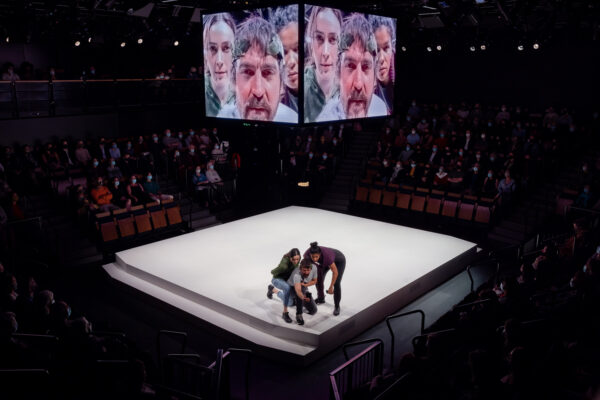 The ever-moving, ever-changing performance did not disappoint and was so engrossing that no audience member had a chance to doze off and think about their weekly errands; by the end I was amazed to realise two hours had passed as I pried my hands from my seat and picked my jaw up off my lap.
Referencing a Roman stadium, the set takes on dual significance to comment on the current worldwide sociopolitical climate, as well as centuries of dictatorial and democratic situations. The Creative Team of Julius Caesar explores the undeniable parallels of the tyrannical Caesar with the Trumpian era and countless political leaders— rewriting the famous Marc Antony speech to include quotes from Trump, Obama, JFK, Scott Morrison, etc. This performance takes a classic text and shines a light on the disturbing realities of the present-day climate, provoking examinations of sociopolitical intentions and seeking an honest reflection of the evident repetitive cycle of civilisation.
Hakewill, Leslie, and Newman, under Williams' direction, take on the mammoth task of multiple Shakespearian roles and surpass expectations; understanding Shakespeare has never been so stress-free.
After a period of uncertainty and anxiety, theatre has returned to enrich our minds and provide a place for remarkable experiences to be had. For two hours, Julius Caesar will have you laughing, gasping, crying, and wincing at every chance, a performance you will be kicking yourself over if missed.
Gia Cohen, 23 (She/Her)
___________________________________________________________________________
To program Shakespeare in the 21st Century has become a much-heated debate and, to be honest, a production does need to be worth it – especially when it is Sydney Theatre Company performing it.
Kip Williams' unique production of the tragedy Julius Caesar is a potent production, making up lost time at the theatre post-lockdown.
Upon entering, you know that you are in for a unique performance. Wharf 1 is transformed into a theatre in the round – a style in which Roman audiences themselves witnessed live events. This nod to history is strikingly juxtaposed with the only major set-piece – a cube used for video and projection work. This blend of traditional and contemporary theatre is key to the entire approach to this staging as the show progresses from Ancient Rome to the modern world. This aesthetic transition was handled well without being jarring.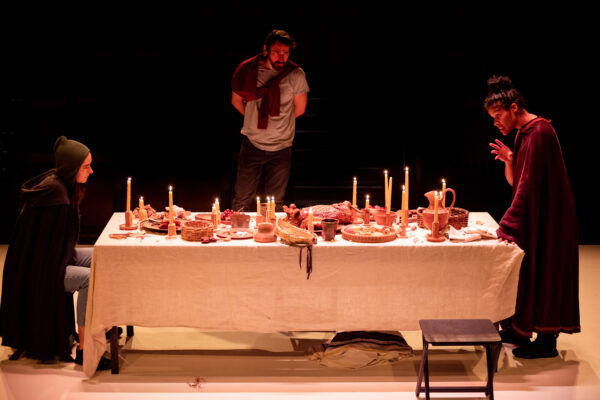 It is rare to see a production engage with the genuine history of the piece explaining why Rome's republic would be wary of Caesar.
The performances are also key to the show's success. All three actors did great work, with Leslie's Caesar making enough of an impression before his death, the intense bond of co-conspirators between Newman's Brutus and Leslie's Cassius as they too head towards their sorry fates, and Hakewill's Mark Antony's standout moment as Antony transforms from mourning Roman to a modern-day avenging politician. Their dialogue is accessible and articulate without verbose reverence when performing the more famous lines.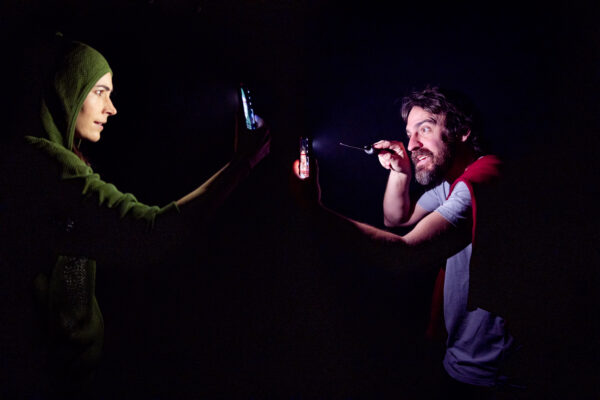 The vision for Julius Caesar also highlights Williams' understanding of how to do Shakespeare for the 21st Century. Knowing why the work is still relevant and after a decade fuelled by countless leadership spills, Trump, and Brexit all broadcast on a 24/7 news cycle where politics might as well as be an episode of the Kardashians, this clash of political ambitions, principles, and rhetoric holds all too well.
Meta touches such as Mark Antony's famous funeral speech where mid monologue delivers a mashup of real-world political speeches ranging from the infamous words of Donald Trump to Gough Whitlam's famous last words add to this commentary. It should also be praised that neither Caesar nor Brutus are given obvious real-world allegories allowing them to be their own characters.
This production is worth the while as both a piece of theatre, Shakespeare, and an overall must-see.
Thomas Hamilton, 26 (He/Him)
Sydney Theatre Company's Julius Caesar is playing at Wharf 1 Theatre until 23 December. Book your tickets here.