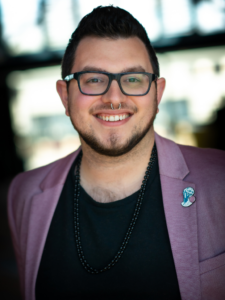 An introduction to honour RuPaul – hello, hello, hello! 
It's nice to virtually make your acquaintance! I'm Jake, and I'm the newly appointed Event and Venue Hire Coordinator here at ATYP! I always knew I'd make it to the big time somehow, and here I am, in proper digital fashion. I'm a writer and director living out in the Western Suburbs, and I have a keen interest in queer themes, stories of our people out West, horror (I know, spooky dooky) – and most importantly – the voices and stories of our young creatives. There are so many vibrant stories to amplify, and that's what drove me to ATYP.
It's an exciting time to be in Walsh Bay lately, with The Rebel Theatre – and our wonderful shared foyer – becoming the social hub for our FUSE 2022 Youth Arts Summit! A three-day event with dynamic leaders in art, coming together as one.
Auditions will be in full swing for Shack, a beautifully written play by our very own playwright superstar, George Kemp!
A fabulous production of Intersection: Bloom was held in The Rebel Theatre, outlining the prestige of our astonishing young actors as they performed an anthology of new works written by 10 brilliant writers. 
All of this in time for our 16 spectacular young people to commence work experience here in our office. We will show them the inner workings of an arts-based office – which now means we may have to actually do some work! Oops!
As you all know, the arts industry continues to be a world of exciting situations. Nothing here is boring, and no one wants 'boring' anyways. I'm very excited to catch you all on the ride!
All the very best,
Jake