Victoria Zerbst – Rebel Wilson Comedy Commission Blog 1
Firing up The First Draft 
Right now, I'm in the ecstatically creative (if not daunting) phase of writing a musical wherein I get to throw everything I have at the wall and then see what sticks before my first draft is due in September. One of the most exciting features of the Rebel Wilson Commission is the opportunity to spend time doing this. 
On a regular writing day, I walk along the coastline, latte and phone in hand, I whisper-sing a tune into my voice memo app, get carried away, trip over my feet, completely stack it on the wet concrete, spill the dregs of my hot latte all over myself, apologise?, and then rush home to write up whatever tune-stack-apology is recorded into my phone.  
But to even get here, to even get close to a moment of coastal voice memo-ing, I have to fill up my brain blender with enough fruitful materials. I have to remember, listen, read, manifest positive thoughts, and then walk for (sometimes) hours. I thought I'd share some inspiring materials (as I do in my chaotic monthly newsletter) that have helped me fire up for my first draft. 
Remembering 
A lot of the raw materials for this show are the songs I wrote in high school. I've obsessively kept so many books filled with lyrics and chord sequences and I always thought they would be for something one day. It's wild going back into your mind as a teenager (the pain! the sorrow!) but also incredibly enlightening when writing a show for teenagers.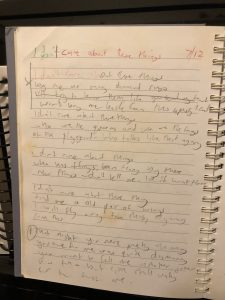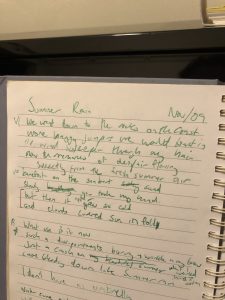 Shame, most of the songs are about my breakups and not caring about things. And shame, nothing has really changed. 
Listening
I'm not joking when I say that for three weeks when it came out, I listened to Fiona Apple's Fetch the Bolt Cutters twice a day: once while walking, once while lying down. The textured rhythms, percussive force, the biting lyrics, the simmering melodies, I live for this album. While it's not even close, thematically or musically, to the show I want to write, listening to it just lights up my little brain and I always feel more creative afterwards. 
Same goes for Taylor Swift's Folklore – a poetic and moody album that offers a masterclass in pop/folk songwriting (this woman can really write a bridge). Oh, and Lady Gaga's Chromatica always sends me into a good writing mood. 
More specific to the task at hand, I've listened to The Prom (Original Cast Recording) and A Strange Loop (Original Cast Recording) almost non-stop. And for sure, I've re-listened to Hamilton. 
I will say, though, A Strange Loop just blows me away every time I listen to it. I will note, though, that lyrically it is very adult and tends to punch you right in the gut over and over. 
Reading
Whenever I have a writing day in my calendar and nothing is coming to me, I go straight to my plays. Even reading one monologue is enough to get juices flowing, and I'm currently obsessed with the National Theatre Connections, the UK's collections of new works written for young people. Here's a stack of my go-to's at the moment; I've curated it visually just for you guys! 
Also, special shoutout to Lachlan Philpott who was my mentor at the ATYP National Writer's studio last year (go Team Booty Shorts!). His plays are just wonderful and fresh and I love them!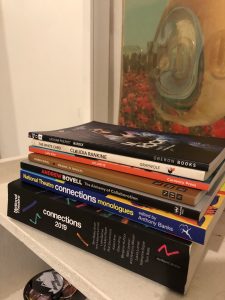 Manifesting 
A huge part of my writing process is being on 'manifestation' and 'positivity' TikTok, can you believe it? This means I spend a lot of my time watching videos of young people reminding me to be positive and dream big. 
This is mostly to rewire the neural pathways I have created for myself that so often guide me to that futile pit of stagnation via self-criticism. 
To combat this I've also taped a chapter of Anne Lamott's book Bird by Bird: Some instructions on Writing and Life on my wall (very cool and chill) and I read it whenever I'm feeling overwhelmed by mediocrity.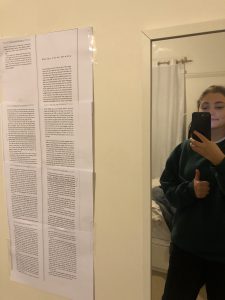 I came across the chapter – playfully penned Shitty First Drafts – this year during ATYP's Fresh Ink program and it changed the game for me, truly. It's all about not letting perfectionism and self-doubt get in the way of just bashing out that first draft.
Writing 
And then I get to sit at the piano. It's truly a dream. I asked my mum to take this pic.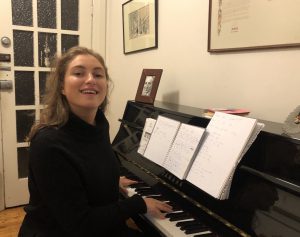 More updates coming soon! In the meantime, you can catch some of the comedy sketches I write with my partner in crime, Jenna Owen, on The Feed at 10pm on SBS.