Two Twenty Somethings review
12.05.21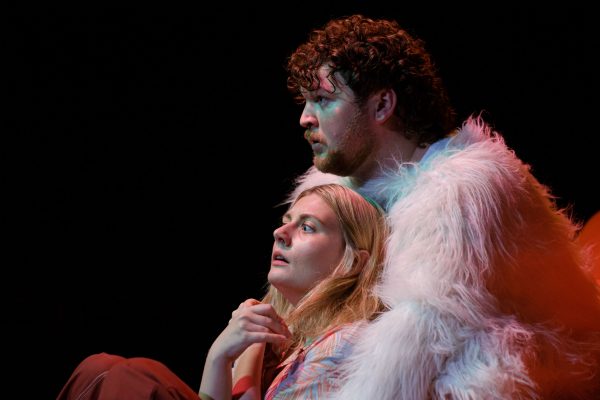 Walking out of the theatre from Two Twenty Somethings Decide Never To Be Stressed About Anything Ever Again. Ever., I looked at my friend, she looked back and we immediately compared the play's characters to our mutual friends. Throughout the relentless comedy serving uncontrollable laughter, the play brings a huge level of authenticity and familiarity, proving uniquely relatable.
Two Twenty Somethings is carried on the backs of Jasmin Simmons and Kieran McGrath. Throughout the hour-long run time, they sustain a gripping high energy, demanding a special kind of attention not too far off from how we might watch a hyperactive kindergartener having a tantrum. Yet all the while (with assistance from Michael Costi's outstanding script)
performing with an immense amount of sincerity, and veracity in their delivery and characterisation, perfectly straddling the line between over the top and realistic. Additionally Elliott Mitchell's character while criminally underused brings a perfect dreamscape of hippie swagger, and an important contrast to the other performances.
What struck me the most was its seeming inspiration from sitcoms, at times bringing to life scenes that would not feel out of place in a show like Friends or Modern Family. It likens itself to Marvel's WandaVision, simultaneously celebrating these iconic tropes while flipping them on their head, showing the unachievable nature these shows present, and questioning our contemporary understanding of the world and ourselves.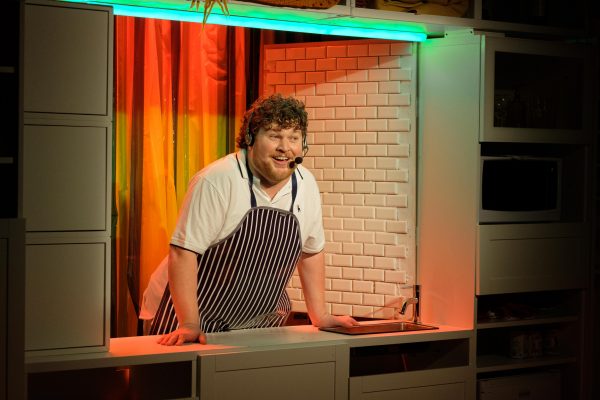 Eve Beck experiments with strong directorial choices that effortlessly prove themselves while watching. Transitions have a purpose, they're not just a means of reorganising the set, they show character, they show progression and time, every moment is packed with something, leaving the play with a pace hardly shy of perfect. Scenes have a rhythm and a secondary dialogue that invisibly plays out, for example a character cuts a leek with each chop building in tension, exemplifying the character's anxieties.
A combination of Benjamin Brockman's lighting, Grace Deacon's set and Alexander Lee-Reker's sound tie the production together. The lights have nuanced placements to create an authentic-looking apartment that show the progression from night to day. The sound design expertly shifts the mood of scenes, and changes the pace from afar. While the set has a
fantastic naturalistic design, providing everything you would need and more for the actors to play with.
You're doing yourself a disservice by not seeing Two Twenty Somethings, a perfect comedy, with more substance than you could've ever asked for. Do not miss this. 5/5.
Brayden, 17
___________________________________________________________________________
"Are we bad people?" "I don't feel like a bad person."
Two Twenty Somethings Decide Never To Be Stressed About Anything Ever Again. Ever., written by Michael Costi, is a hilarious satirical play. But rather than it being a parody of a book or movie, it's a show about real life. The play presents short energetic snippets revolving around a stressed couple just trying to get through life, while outside pressures and anxieties loom over them. Until one day when they decide never to be stressed about anything ever again, ever. Hence the title. This play is about how one deals with stress and adulthood, and the sudden bundle of responsibilities that are thrust upon you. I like to think of it as an adult coming-of-age story!
The characters are charmingly brought to life by Jasmin Simmons, Kieran McGrath, and Elliot Mitchell. These actors did a fantastic job of acting dramatically and over the top, while also keeping the sense of naturalism throughout the whole show. The playful staging is complimented by an intriguing and exciting set – one side of the stage is a lounge room while the other side is a kitchen. And in almost every scene there's a new prop being used.
Something to keep in mind before watching Two Twenty Somethings is that it has a target demographic, and that demographic is young adults. Of course, an older person could enjoy it, however there are multiple pop culture references that may be unamusing to an older crowd. Such as starting an ASMR YouTube channel, wanting a friend that drinks kombucha, and accidentally giving an uber driver a one-star review. That being said, I believe anyone of any age should come just simply to admire the design aspects! With a naturalistic set, gorgeous lighting, and sound design that helps immerse you in the story. It is a pleasure to watch.
I highly recommend inviting some friends to go for a night out to watch this play, it's warm, inviting, funny, and light-hearted. I will admit that Two Twenty Somethings isn't absolutely groundbreaking, but it is very enjoyable and very aesthetically pleasing. So, if you aren't too busy trying to figure out adulthood, definitely come and check out this adorably goofy play!
Astra, 15
Two Twenty Somethings Decide Never To Be Stressed About Anything Ever Again. Ever. presented by Bite Productions playing at Kings Cross Theatre until May 22. Book your tickets here.