The 7 Stages of Grieving review
26.05.21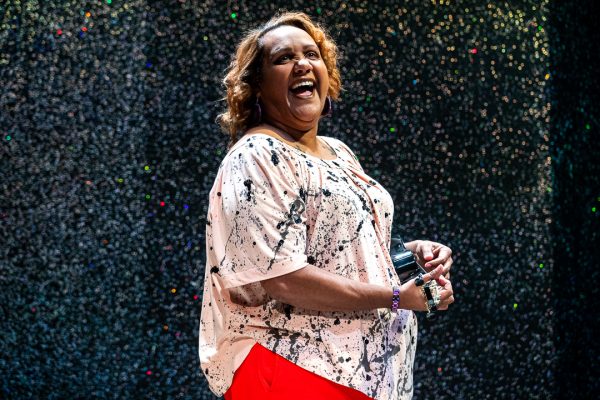 The line between watching a performance and being completely engulfed in a performance is quite thin, and The 7 Stages of Grieving managed to not only cross that line but erase it altogether. The 7 Stages of Grieving first premiered in 1995, written by Wesley Enoch and Deborah Mailman. Now, many years later is a new, adapted, belly laughing and crying-your-eyes-out production, directed by Shari Sebbens and performed by Elaine Crombie. This performance keeps you in a constant state of tears and laughter, deeply exploring topics that leave most people very uncomfortable. Crombie's ability to act on stage for one whole hour, by herself, constantly under a spotlight and being able to bring everyone in the audience through storytime and ceremony is a true talent. Elaine Crombie should be celebrated, and also should be crowd-surfed out of the theatre. She is truly talented.
As a Gamilaraay girl myself, watching the issues brought up within the show brought up a personal truth, talking about broken language and not knowing your family history had me in tears. I wanted to walk up on stage and give Crombie a warm hug and say "me too sister". But then I was laughing at her mocking the queen of England! And then back to crying, sobbing and then laughing!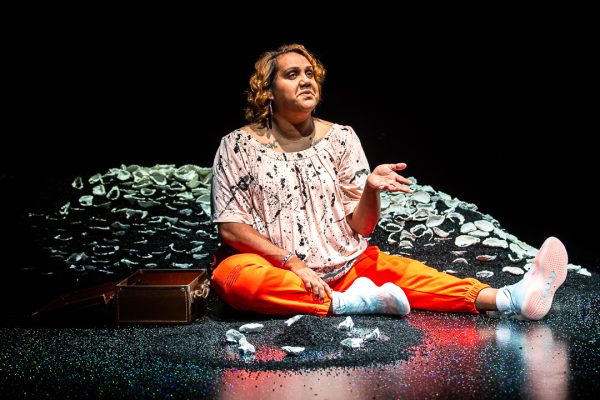 This production was spectacular. From the smoking ceremony at the start to the stories about family. Instead of trying to change how stories have been told for thousands of years, and adapting them to suit the Western way of performing, this production challenges the invasionist theory that aboriginal storytelling is some sort of spectacle, something you would see in a museum, or only when you go out to the Northern Territory, to what it actually is, not a spectacle, not a magic trick but a way of life. Yes, Crombie might be performing when she's doing a smoking ceremony, but she is actually doing a smoking ceremony. She is actively connecting with spirit before the funeral of her character's Grandmother. Before she shares stories of murdered brothers and sisters. The whole production isn't planned out to just entertain the audience, it's a whole ceremony too. That's what makes it so special because it's a traditional way of performing, teaching, sharing, growing.
It was my pleasure to come to watch this production. I highly recommend this performance, especially if you wish to see a cleverly designed and perfectly told story.
Josephine, 16, Gamiliaraay
___________________________________________________________________________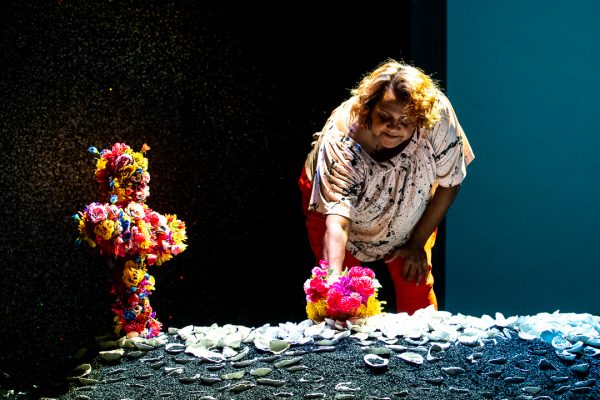 Everything about The 7 Stages of Grieving was beautiful. From the way the lighting was positioned, the use of bold words in the background on the screen, and the emotional music that captured the audience's attention. I also think that the props were placed and used at the right time to help portray the stage of grieving that the character was facing. Elaine Crombie's acting was phenomenal. The way she showcased her emotions was mesmerising and powerful.
However, I was quite confused when it came down to where the storyline was going. I felt as though the play portrayed and categorised all Aboriginal people into one group which was, in my opinion, a stereotypical view of Indigenous people (alcoholics, drug addicts and mainly angry black people). I struggled to understand whether it was the writers' lived experiences or their opinion of all Aboriginal people. As a young Aboriginal woman, I had a lot of mixed emotions and wished there was more context to the storyline. I did not agree with how the play portrayed the incarceration cycle, saying that it starts because of "drugs and alcohol", because there are so many systemic factors that can land an Aboriginal person in jail.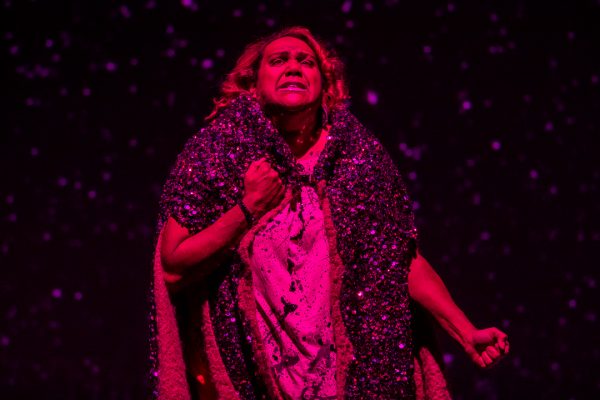 I think different generations will respond differently when watching this play as my Aunty saw the premiere night and had a very different response to me. I feel everyone will have a different response and interpretation based on their own lived experiences and knowledge of Aboriginal history and culture. This was my perspective as a young Aboriginal teen.
Karah, 20, Bundjalung
Sydney Theatre Company's The 7 Stages of Grieving is playing at the Wharf 1 Theatre until June 19. Book your tickets here.