Return to the Dirt review
21.10.21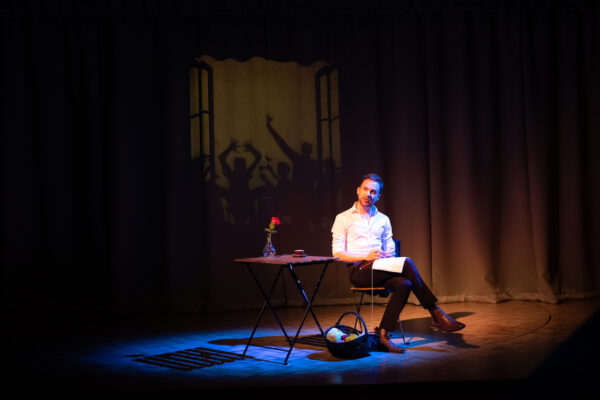 It's hard to say no to theatre with a life-sized "OUCH" board used to explain embalming, or a passionately delivered TED Talk-style monologue about the funeral industry. Add in references to my hometown, and I'm front row in a heartbeat. Meet Return to the Dirt, a new work created through the Queensland Premier's Drama Award, written by Steve Pirie and performed at Queensland Theatre. Following the writer's personal history and story of returning to his (and my own!) hometown of Toowoomba and beginning a job at a funeral home, Return to the Dirt explores mental health, masculinity, human connection and death through Steve Pirie's own voice, quite literally, as Pirie himself is onstage narrating and hosting.
Steve Pirie's work is fantastic, with a cheekiness and wit that interrupts moments of heartbreak and a vulnerability that creates them. I adored moments of absurdity and breaking structure, as we went from gameshow to speech to mourning service in the blink of an eye. Pirie's dissection of his own mental health was beautiful to see onstage, as 'The Playwright' (performed by Pirie himself) became a fairy godfather figure, giving advice, narrating thoughts and adding background information for the audience. I was enthralled seeing a man talk about his mental health on stage, mentioning disordered eating, self-harm and overworking as coping mechanisms, as although it is imperative we see it, it is rare onstage from a male character. However, while I loved his vulnerability and open discussion, I found myself slightly off-put at times, as I personally felt the performance of a real story took away from the earnestness of the messaging.
Lee Lewis's directing was wonderful, using a revolve onstage in dynamic ways and fully leaning into both the absurdity and authenticity of the script. The usually black-box theatre was built into a proscenium arch, giving the audience the feeling of cleanliness and old-fashioned calm and discomfort of funeral homes. The cast was delightful, with equally impressive comedic and tragic timing. Almost every cast member played multiple roles, and were astonishing in their ability to create unforgettable characters and moments in every scene.
After the last two years we've all had, separated from loved ones and human connection, watching a play about the importance of relationships was refreshing and empowering. Return to the Dirt reminded me of not only the fleetingness of our time on earth, but the preciousness of the life we create with the people around us.
Jordon Riley, 21 (She/Her)
___________________________________________________________________________
Until moving for work in March of this year, I had lived my whole life an hour-and-a-half west of Brisbane in Australia's second-largest inland city: Toowoomba. Every day on the way home from work and school, I would drive past one of the city's largest funeral homes. There was always a morbid curiosity in me about what went on behind those closed, grand, elegantly detailed doors.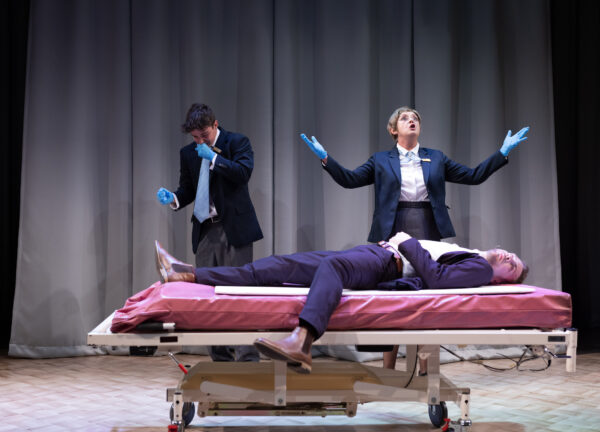 On Thursday night, at the opening of Steve Pirie's mainstage debut, Return to The Dirt, I was given a gut-wrenching, gut-busting glimpse at what could be behind those very doors. The Queensland Premier's Drama Award-winning play is a dark autobiographical comedy about Pirie's "year back home" in Toowoomba as a 25-year-old theatre-maker working in a funeral home to help make ends meet and save for his wedding.
Queensland Theatre's Bille Brown was at full capacity as the real Steve interrupted a job interview between fake Steve and the director of the home to give an eerie, blasé declaration of the inevitable end to the sold-out audience: "You are all going to die". From here, Pirie guides us (as playwright and host) through the lives and deaths of the people he met along the way.
Pirie's wickedly sharp script was lovingly directed by QT's Artistic Director, Lee Lewis. Her ability to craft theatrical vignettes out of real-life accounts from Pirie's life and balance the small-town comedy with its looming universal themes on life and death is pure talent and an absolute pleasure to watch.
The cast – all making their Queensland Theatre mainstage debut – carried the many characters and moments from twelve months of a man's life with an authenticity and light-heartedness that allowed the heavy themes of the play to float in and out of the audience's mind, rather than trudge through old wounds. Of particular note is the incredible range and truth within Chris Baz's performance of multiple, sometimes fleeting, roles, and the blistering, beautiful, scene-stealing, eternally rewatchable performance from Jeanette Cronin as Deb, Steve's "second mum" and co-worker at the home. A warm hug in a bitter cup of coffee, Deb is an absolute stand-out.
As usual, the design from QT's all-star team, Renee Mulder (Designer), Ben Hughes (Lighting) and Julian Starr (Sound) pins it all together and gives the audience a minimalist, colourful, funeral-home-esque feast for the eyes and ears.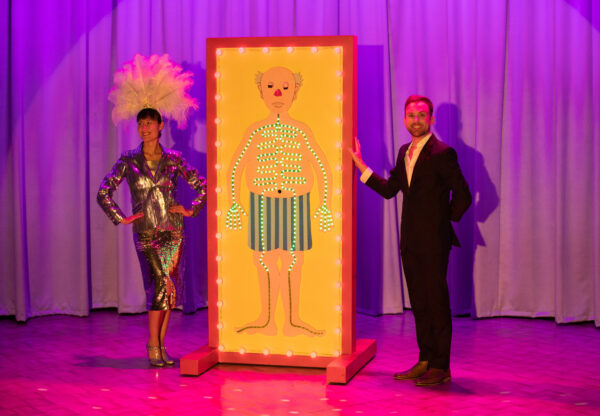 In the latter act of the play, the emerging subplot of the protagonist's own decline in mental health was delivered with incredible care and urgency but also a refreshing frankness, giving the living audience something to walk away with – death comes to all eventually, but for some, all it takes is the right support, the right help, to keep it away for the time being.
Return to the Dirt is a beautiful play, full of life, and it brought tears to the eyes of this young man who still calls TBar home.
Blake Hohenhaus, 21 (He/Him)
Queensland Theatre Company's Return to the Dirt is playing at the Bille Brown Theatre until 6 November. Book your tickets here.