27.07.21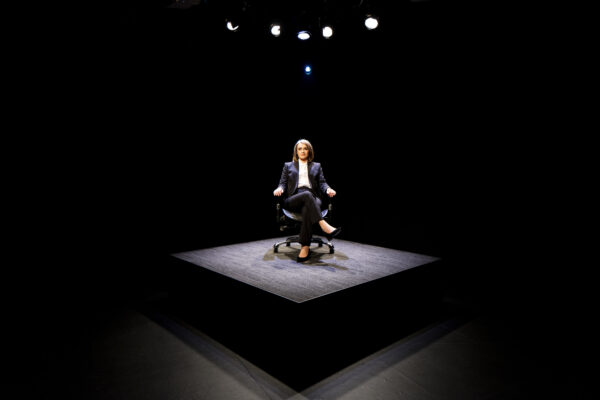 TW: Sexual Assault
It's not often that I walk away from a theatre with red eyes, fighting back more tears, but Prima Facie is not just any theatre.
Written by Suzie Miller at the height of the #MeToo movement, Prima Facie is the story of Tessa, a young defence lawyer in her prime who is forced to face her own ruthless belief in the law. Tessa defends whoever lands in her inbox, including those accused of rape and sexual assault, believing that the legal system is built to uphold justice. After experiencing sexual assault, her perspective changes, and she confronts the misogyny of the legal system and the humiliation and vilification of survivors in the process.
Suzie's Miller's script is incredible, constantly tying in past jokes and anecdotes in new contexts and keeping the audience on their toes the entire time. Tessa's voir dire monologue
is one of the most profound pieces of writing (and performances) I have seen onstage. Miller's life experience shines through in a script that is equally hilarious and heartbreaking, and the world of law is never out of reach of the audiences' understanding.
Sheridan Harbridge's performance is astonishing. Luring us in with bravado and confidence, Harbridge shows the performative nature of Tessa's career, the high energy, the over-the-top impressions and almost overbearing extrovert personality. We laugh, roll our eyes and watch a caricature-like performance of a defence lawyer, only to be smacked in the face with a stripped back realism so bare and raw it is equally unwatchable and unable to be looked away from. A one-woman show, Harbridge holds our attention for the full hour and forty minutes, giving us Tessa's impression of multiple characters with beautiful clarity in body and voice, and jumping from Then to Now with ease. Although I wish Queensland Theatre had cast a Queensland based actor in this role, it is undeniable that Sheridan Harbridge is astounding as Tessa.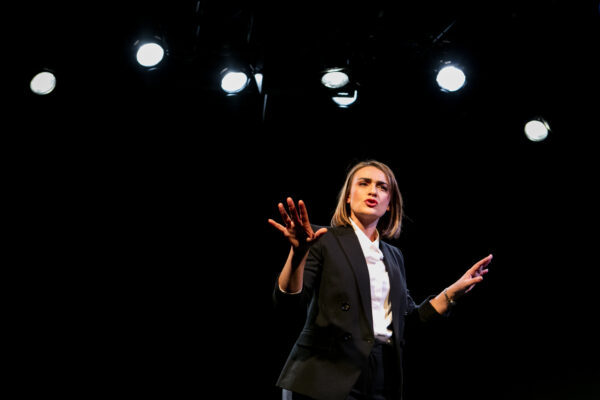 The direction is fantastic, with Lee Lewis creating beautiful clarity of story in minimal set, lighting, costume and sound. With only an office chair on a small platform and two (very
similar) costumes, Lewis uses movement, placement and body to create multiple characters, places and times. It is a credit to all aspects of the show how visceral each moment is. Even as I write a day later, I can clearly see and hear each room, office, character and moment as though full sets, costume and cast were onstage.
The last five years have been full of stories on and offstage detailing sexual assault, misogyny and the mistreatment of women across all career paths and walks of life and as a young woman, I find myself often limiting my exposure to these recounts. Prima Facie however takes a story known by many and creates a character arc that unpacks the legal side of sexual assault in an incredibly eloquent discussion of misogyny, power and status quo. This play and this performance deserve every accolade and more.
Jordon Riley, 20 (She/Her)
___________________________________________________________________________
Gentle. Empathic. Blistering.
First performed at Griffin Theatre in Sydney in 2019, Prima Facie is the best show I've seen at Queensland Theatre this year, and quite possibly one of the most powerful theatre experiences I've had in my life.
Prima Facie is a story, by lawyer-turned-playwright Suzie Miller, about criminal lawyer, Tessa, who "knows the law and permits no room for emotion" but is "forced into the shadows of doubt she has so ruthlessly cast over other women" when she finds herself plaintiff in a criminal case.
Sheridan Harbridge is the world shaper. She, alone, on stage for an hour-forty creates the spaces in which the story unfolds – the stuffy law firm offices and pulsing nightclubs – which are almost cinematic in their realism. Harbridge is simply astonishing. She had me wrapped around her finger the entire time and carried the weight of the subject matter, namely, sexual violence against women and the legal system's faulty response to it, with incredible grace, compassion and truth that completely rattled me.
The simple set, designed by Renee Mulder allows for a clean slate for the worlds of the play and a gentle, unintrusive score by Paul Charlier breathed underneath the entire production, ebbing and flowing beautifully with the narrative.
It goes without saying, but this show owes everything to the delicate, empathic understanding Miller's work has for almost every character in the narrative. Especially the scenes depicting law-in-motion, which soar due to the commitment from the playwright in prioritising authenticity, legal jargon and all, over immediate comprehension from the audience. Lee Lewis' incredible direction allows the entire story to flow like an immaculately choreographed dance.
In a harrowing moment nearing the end of the production, the play asks the audience to deliberate on the lived experiences of the women sitting in the theatre. I gazed around the theatre to see a hundred masked faces, hundreds of sets of eyes looking back at Tessa and I was simply floored. This show is why we must make theatre. I am supremely grateful that it exists and that I had the chance to witness it.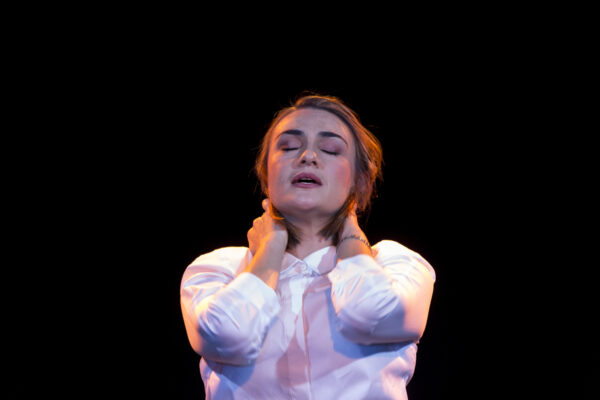 Kudos to Queensland Theatre for programming this incredible production, I look forward to seeing more confronting and challenging work programmed by the company, hopefully developed with, for and by Queenslanders, using this play as an incredible example of the value of belief and continued development in strong ideas well presented by people with stories that must be told.
Prima Facie is simply astonishing. Everyone must see this show.
Blake Hohenhaus, 21 (He/Him)
Prima Facie is playing at Queensland Theatre Company until August 7. Book your tickets here.