04.06.21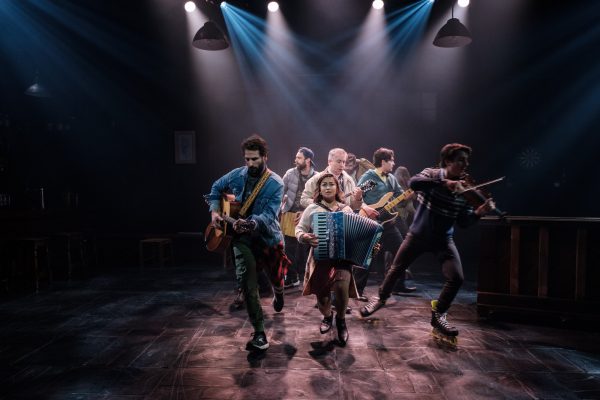 From the very first chord in the show, we're drawn into the world of Guy, played by Toby Francis, as he plays about his woeful heart and lack of love for life or music. The set is simplistic but highly effective in inviting the audience into the world of the characters. Girl, as played by Stefanie Caccamo, brings ever-growing energy to the stage, reminding us of the joys in a life we sometimes take for granted.
Something in particular that always makes Once a stand out show in my opinion, is that all the actors play their own instruments live on stage. This brings life and authenticity to the piece, it adds an entire extra layer which I wish more shows could bring us and it is an immense testament to the talent of the actors.
The show is full of ebbs and flows of humour and humility, raucous laughter and the deepest truths a person can share. It is built with a cast that I believe everyone in the audience can relate to in one way or another. They each bring out the best and worst in each other whilst showing us a reflection of ourselves as a society, where we lack and what we can do better.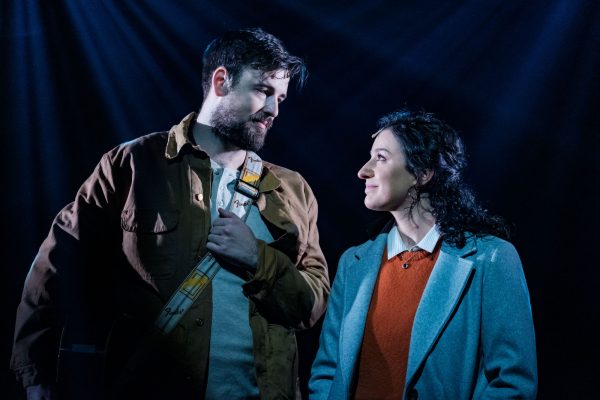 Whilst this shows highlights so many beautiful, small details of life and living it to its fullest, it also shows us the hard choices we have to make in love, life and how we pursue our future. This production reaches right into the rawest parts of your heart, and this is truly showcased by Francis' immense vocal range, bringing out the soft tones to fill the sweet folk moments and reaching deep inside to deliver some of the most gut-wrenching belts I have ever had the pleasure of hearing. Partnered with Caccamo's pure and strong vocals, which help to anchor the whole show. The talent within this cast is of an incredible standard, and a highlight was watching Alec Steedman as Eamon zipping around on roller-skates whilst flawlessly playing the violin. Overall this truly is a show which documents the strength of human connection and how with a few words you can completely turn a person's whole world upside down. You do not want to miss it.
Victoria, 23
___________________________________________________________________________
Once is something I'm glad I saw… once. It reaffirmed in me the stories I'm sick of seeing, stories I had quite frankly hoped we'd left in like, 2010: fevered wet-dreams of a male fantasy, choc-full of romanticised stock characters that live to serve the only dimensional character of the story, the male protagonist. I feel I may be in my own fever dream considering all the awards Once has won, but this musical didn't resonate with me all and I can't help but wonder why Darlinghurst Theatre Company felt it is a good pick for a 2021 season?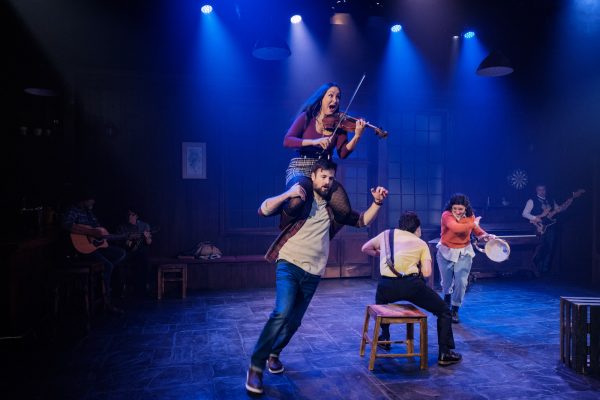 Once follows the "love" story of Girl, a Czech immigrant, and Guy, a broken-hearted musician on the edge of giving up music. They meet-cute on the streets of Dublin during one of Guy's basking sessions and for the next 130 minutes what ensues is the blueprint of a 'Manic Pixie Dream Girl' trite; a pure but damaged woman who exists solely to build up and "teach broodingly soulful young men to embrace life and its infinite mysteries and adventures". So smacked in the face are we by this trope that after one day of meeting Guy, Girl pushes (but in an impulsively fun and sexy way) $2,000 onto Guy to help him with his musical dreams. Despite being so poor she "doesn't have 10 pounds" to her name and lives in a tiny place with five other immigrant roommates.
The script then progresses as predictably as the sun rising tomorrow, where, as the trope goes, Guy ends up rising out of his slump, all the changed because of Girl's lessons/sacrifices. Girl, however, ends exactly where she starts, content with her less than desirable life (not that I'm even sure what her desires are?) – but she's the perfect cardboard cut-out, so she smiles through the pain and loneliness of it all.
But the fun doesn't stop there kids! Another little gem this production has is the fetishising of ethnic cultures! The Czech community/culture are novelised completely. Portrayed as simplistic people full of blinding happiness, fun and deep running passions despite their hardships– again a valuable lesson in embracing life for Guy. The culture is so exotic, so sexy…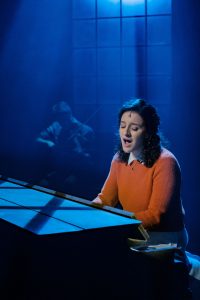 Watching Once felt like I watched 130 minutes of someone's fetish fanfic. A gentle reminder – I do not exist to help you grow.
In saying all that, the majority of elements outside of the content of the play were excellently done and polished. The Eternity Playhouse is such a transformative space and the design elements, especially set (by Hugh O'Connor) & lighting (by Peter Rubie), are exquisite. The leads' voices are simply to die for (I'm not sure I've ever heard a voice like Stefanie Caccamo's. It's immaculate) and some of the songs admittedly are bops. The ensemble worked as a well-oiled machine (a credit to movement director Amy Campbell), creating a lovely folksy atmosphere and enhancing the over scape of the performances. This production has an abundance of talented performers and creators I'd love to see in anything else.
Demitra, 26
Darlinghurst Theatre Company's Once is playing at the Eternity Playhouse Theatre until July 18. Book your tickets here.