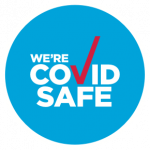 ATYP COVID-19 Health and Safety Information for In-School activities.
ATYP is a COVID Safe business and our procedures and policies align with current government advice. 
Here's how ATYP is supporting your health and safety and responding to the COVID-19 pandemic: 
ATYP's responsibilities:
ATYP has a COVID-Safe policy for all our employees that aligns with current government advice, and all ATYP staff and artists will be briefed on this before entering a school;

ATYP staff and artists will be supported to ensure the best hygiene and safety practices

ATYP staff and artists will practise mandatory social distancing as far as it is practicable from teachers, students and other members of the school community;

Where applicable ATYP's programs will be contactless between our staff and artists and students and teachers;

We will not visit the school if any of our staff and artists are feeling unwell, or awaiting a COVID-19 test result.
What we ask of you and your school:
Please provide us with any specific COVID-19 school policies and procedures you may have 

at least one week

 in advance of our arrival;

Please ensure that the venue is size appropriate and allows for the minimum distancing requirements between ATYP staff and artists and students;

On arrival, inform our tutors or staff of the location of hand washing facilities; and

Ensure that students stay a safe distance in the workshop space and with our artists
PROGRAM-SPECIFIC INFORMATION
ATYP tutors and staff will maintain 1.5m distance and no physical contact throughout the workshops;

For Education Workshops, we ask that at least one teacher is in the room to assist with organising students physically in the space

We ask for Education Workshops that schools increase the amount of space where the workshop takes place to allow the appropriate physical distance between the tutors and students

Tutors will be encouraged to wear a mask on arrival and at sign-in to the school until the schools COVID-19 policies and procedures are made clear. 
If you have a concern about ATYP's COVID-19 safe practices, witness a breach of this code of conduct, or need to report a case or close contact with a person infected with COVID-19, please contact us at [email protected] or (02) 9270 2400.
Thank you for your assistance in ensuring our visit is a safe and enjoyable experience.