Is There Something Wrong With That Lady? review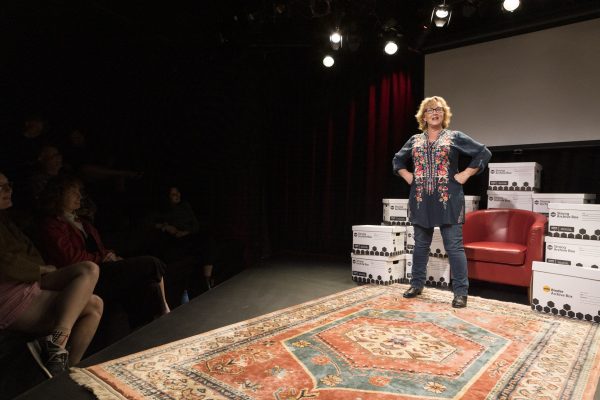 "I want to work with clever people and make something new". 
These words, spoken by writer Debra Oswald, are at the heart of her one-woman show Is There Something Wrong With That Lady?, playing at Griffin Theatre Company. The play explores her life and her creative journey as a "dogged" screenwriter and playwright, who has spent many years attempting to create work that moves people.
Debra Oswald is a seasoned storyteller, there's no doubt about it. Her performance is vivacious and charming, while the script is full of witty insights, self-deprecation and anecdotes spanning the course of her life. Direction by Lee Lewis places the focus onto Oswald's storytelling, as production elements are kept minimal. The set simply consists of a red chair, surrounded by archive boxes that hold props to be used in the show. By staging the performance in the small space of the Upstairs Theatre, Lewis has given it a warm, intimate feel.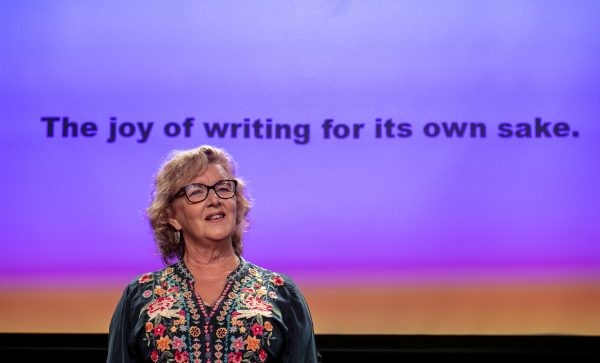 Supported by images on the projector behind her, Oswald leads the audience through the story of her life, starting from her years as a Junior Hypochondriac; a nine-year-old who was convinced she had stomach cancer. She narrates her failed attempts to "attain sexual offers" at university and the difficulty she faced in developing a usable plotline for 'Bananas In Pyjamas'. The weight of the play arrives in her discussion of mental health struggles and the consistent rejection that comes hand-in-hand with a 30-year writing career.
As a young, aspiring writer, the play struck a chord with me. It is refreshing to see a writer who I perceive as sitting upon the pedestal of 'success', describe their own experiences of rejection, doubt and their "vast psychic hole" that yearns to be filled with validation. She describes the theatre as a bad boyfriend, who dumps you and cheats on you only to come crawling back months later, asking for your love again. However, the 'bad boyfriend' of theatre is equally a source of joy, wonder and connection – and Oswald knows this.
At one point, she asks the audience to help her decide whether she should quit writing. But it is clear to anyone sitting in the audience of the Upstairs Theatre, absorbing the joy of a story well-told, that she won't be quitting anytime soon.
Miranda, 20
___________________________________________________________________________
Is There Something Wrong with That Lady?, written and performed by Debra Oswald, is an honest reflection on her life from hypochondriac childhood, to the success of Offspring and to periods of "dogged" and unrewarded hard work. Debra invites you into a night of autobiographical storytelling which leaves you charmed and in awe of the humour and sheer force of will she has brought to her writing career.
On a stage primed with archive boxes, Debra Oswald expertly balances honesty, sincerity and humour, weaving insights into the successes and failures of her writing with personal tales of failed romantic and sexual endeavours. Her reflection is complemented by a somewhat daggy slideshow of photos with photos of moments and people throughout her life, which she references with a number of self-aware asides, talking directly to her audience or to Stage Manager, Madelaine Osborn, as she operates from the tech box.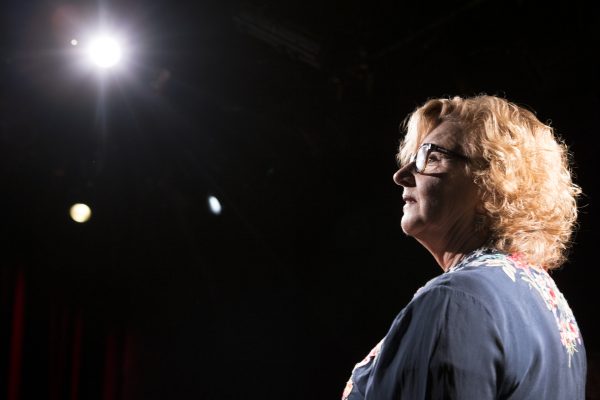 I was particularly struck by her reflections on writing as a duality of arrogance and as a constant need for validation. Recounting her sixteen-year-old self sending her first finished play to the creative director of Griffin Theatre – then Nimrod Theatre – asking if she "had any talent", Debra offers an understanding of the dual vulnerability and boldness it is to be a young theatre-maker.
While director Lee Lewis and Lighting Designer, Benjamin Brockman, artfully draw out the strengths of Debra as a performer, the show was slightly let down by a lack of experimentation, which while creating the sense of a casual night-in with a friend, did sometimes leave the show feeling more like a TED talk than a theatrical performance.
Is There Something Wrong With That Lady? left me reflecting on how few stories of older, female writers are visible onstage and on-screen. Talk of representation often fails to include the visibility not of who we are now, but of who we dream of becoming. Debra's honesty and crafted self-reflection is a must-see for any young theatre-maker who feels the pressure, uncertainty and sometimes terror of the path ahead.
Robbie, 23
Griffin Theatre Company's Is There Something Wrong With That Lady? is playing until April 24. Book your tickets here.