22.10.21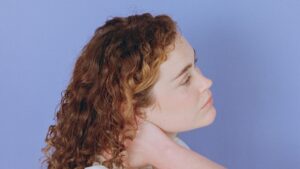 Content Warning: References to violence against women, as well as themes of fertility and birth (including miscarriage, birth-trauma, and post-natal depression).
"The drive of this wasn't to write a medical drama, it was to write a work about emotions and fear and your perception as… a young mother." – Ciella Williams, playwright of Hush.
I always set my expectations as low as possible whenever it comes to an online play reading. As I clicked the Facebook link, the surreal, calming, water droplet soundscape mixed with traffic noises and beats of a hospital heart machine echoed through my dodgy laptop speakers and into my tiny bedroom…
Guttural, brutal, dense, complex, honest and meticulously written, Williams' play is not shy as it wrestles with the fear and experience of becoming a mother, grappling with abortion, fertility, childbirth, birth trauma and violence against women and tying it up in an umbilical cord of hope and truth. It was such an experience that tears were shared in the live chat.
The story is told through the eyes of Nina played by Clementine Anderson, in a surreal Darwin hospital room in the minds of the audience as she is comforted and confronted with characters from her present reality, past and imagination through her laborious journey of becoming a young mother.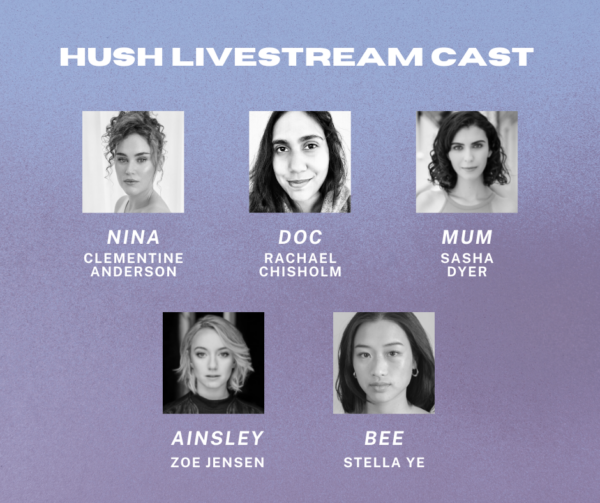 The characters were incredibly complex and nuanced and I could see how Williams took incredible care in ensuring as many voices on these topics were spoken and heard through this small ensemble.
Despite it being a Zoom play reading, the acting of the cast was superb, exhibiting the excellence of Lucy Clements' directing and Williams' writing. Anderson's fearful and formidable performance as Nina, Zoe Jensen's humorous and honest performance as Ainsley, Sasha Dyer's brutal performance as Nina's Mum and Rachael Chisholm's humane performance as the pro-choice doctor brought these voices to life through our screens. But a highlight for me was Stella Ye's delightful and heartbreaking performance as Bee.
If you haven't watched this yet, I highly recommend you to before it's taken down this Sunday, and if you can, donate to them via the link on the Facebook page because it is such a brilliant and ferocious play that I can't wait to see on stage.
Josephine Lee, 19 (She/Her)
___________________________________________________________________________
The world premiere of Ciella Williams' debut full-length play Hush, was live-streamed on New Ghost Theatre Company's Facebook page this evening, an amazing feat during the era of COVID, where our industry has been devastatingly affected with lockdowns and audience capacity regulations (to keep us safe). This virtual production was almost seamless, with impressive stage management by Milly Grindrod, clear leadership from director Lucy Clements and beautifully nuanced performances from the entire cast.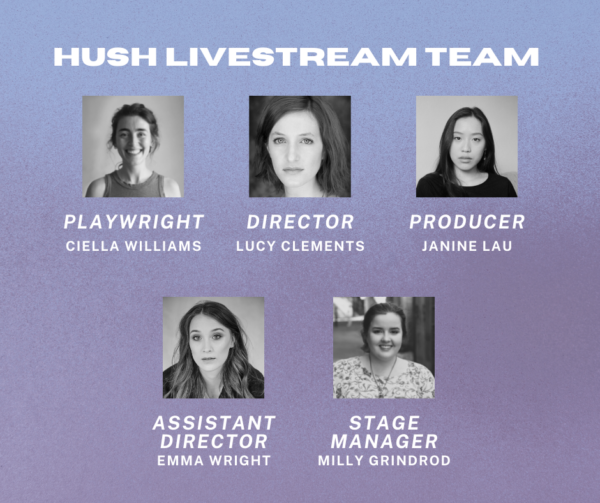 Nina, a young expectant mother is faced with a significant decision to make, with only six more days until termination is no longer viable, will she choose to have an abortion, give birth, and raise the child, or put the baby up for adoption? With the weight of the world's opinions weighing heavy and the memories of a complex relationship with her own mother at the forefront of her mind, Nina must learn to choose what is right for herself.
Hush is not an autobiographical piece, but a vivid exploration of the emotions surrounding pregnancy, childbirth, and motherhood in contemporary, rural Australia. In an environment where access to sufficient pre-and post-natal care is limited due to minimal resources and the burden of questioning whether bringing a child into this world is responsible is heavy, what is a mother to do?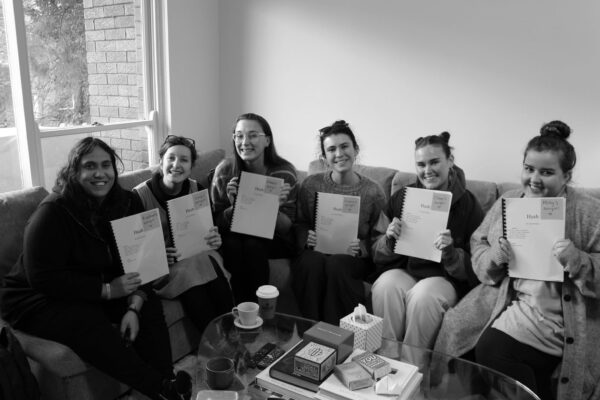 Clementine Anderson is brilliant in the role of Nina. Encapsulating the nuance of a scared young mother, a youthful and spirited friend in her conversations with Bee (wonderfully portrayed by Stella Ye), and an angry and vulnerable daughter who worries that she will turn into her mother. Nina's conversations with her mum (the impressive Sasha Dyer) tug at our heartstrings and effectively portray the complexities of a mother-daughter relationship, and the journey of realising our mothers are not perfect, but human, doing the best they can with the tools they have.
This was a very professional reading and sets the standards high for online theatrical content in the Australian arts scene. I imagine the in-person staging of this play will only add to the success of the play, and I encourage audiences to see the production in person next year. To support New Ghosts Theatre Company, watch the recorded stream on their Facebook page and purchase a "pay what you can ticket" to help fund next year's production.
Laura Campbell, 22 (She/Her)
New Ghosts Theatre Company's livestreamed reading of Hush is available until 25 Oct. Watch now here.