10.06.21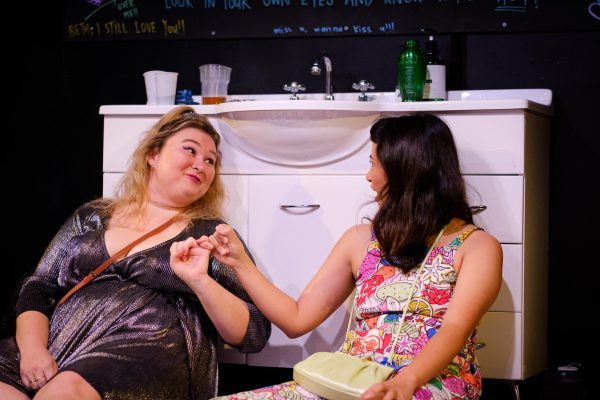 Hot Mess is a pee-your-pants-funny, bold, and self-aware comedy that stages the moments every queer womxn knows, loves and laughs about. From a song about abortion rights to the struggles of peeing in a jumpsuit to crying about your ex-girlfriend in the bathroom, Hot Mess has you laughing and also groaning with recognition.
Tasha O'Brien expertly directs this incredibly talented cast who each lead the stage in their own way, no performer is left behind and we are constantly in awe of the sheer range of skills possessed by the cast. After a hilarious musical comedy scene, the performance begins with a series of moments in which characters enter and exit the bathroom – dancing, texting, taking photos, hiding toilet wine – we are introduced to a range of story arcs that weave between each other as characters meet and interact. We watch friendships pushed to a breaking point and new romances bloom, interspersed with musical numbers, moments of physical comedy, and short comedic scenes.
There is nothing that makes theatre better than watching performers enjoy themselves, and this show was full of the energy and "leave everything on the floor" performance of its cast.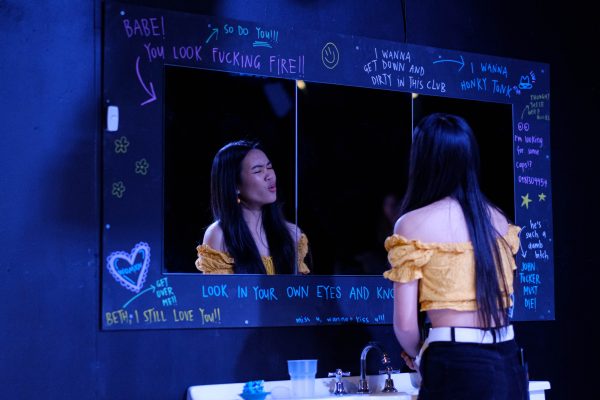 It would be hard to see this show and not mention the incredible set (Hayley O'Mara), costume and sound design (Chrysoulla Markoulli). The fluffy toilet covers are a particular standout, as well as toilet graffiti – a staple of any club bathroom in Sydney. The bass-heavy music reminiscent of a distant club soundtrack welcomes the audience into the performance effortlessly and adds an extra layer of detail to the choice of Kings Cross Theatre, a perfect venue for the performance.
Hot Mess hits the ground running and doesn't let you go right up until the very end. If you're a fan of sketch comedy, if you've ever had a particularly messy night in a club bathroom, or if the cishets are getting you down there's nothing I would recommend more than catching Hot Mess.
Robbie, 23
___________________________________________________________________________
Never thought going to the toilet was that interesting? Think again.
Hot Mess is an exuberant comedy that follows the antics of strangers and friends in a public bathroom on a drunken night out. It has just popped off its two-week run at KXT and is not one to miss.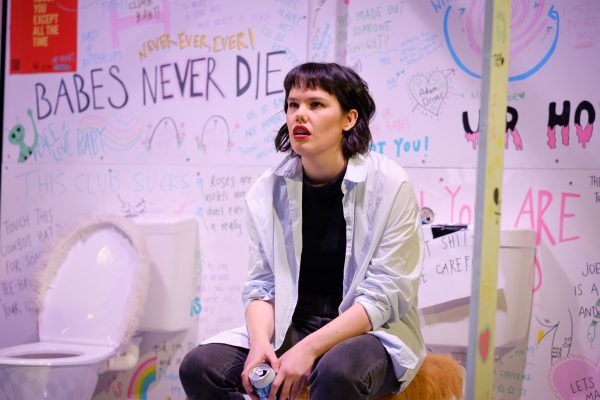 At a time when we haven't been able to go out as much, Hot Mess evokes a club vibe to put an end to your FOMO before you even sit down. From queuing up the narrow staircase into the foyer to getting a stamp on your wrist once your ticket is scanned, taking cute pictures with a freshly graffitied toilet in the foyer, bouncing along to the mad beats pumping through the speakers, or even having a stranger hold your drink for you so you can take the large step up to your seat in the back row (if you are reading this thank you again, I was very concerned I would either trip and hurt myself, or drop my bursting tote bag and my drink).
The show's set design is really fun and made me jealous that I'd never seen a public bathroom as inviting, with bright messages from past occupants scrawled on every centimetre of free wall space and fuzzy toilet seat covers (that now I've seen I feel I should have, even though I probably don't need them?).
It is also not often that you get to see a show with an ensemble that is so cohesive and committed to giving all of themselves to every single element of their performance. Each cast member is given the chance to individually shine, and when the ensemble performs together they are simply a magnetic force. I cackled my way through most of this cleverly written show, and loved all of its overlapping banter and choreographed singing interludes.
Hot Mess used comedy and a public bathroom to elevate the beauty and humour in everyday life and the experiences of marginalised people; and influenced the audience (whether they meant to or not) to reflect on and be grateful to, all the people (family, friends, and random strangers who they spoke to through the toilet stall wall one time) that have ever helped them get through a moment of crisis.
Rhayne, 20
Hot Mess is playing at the Kings Cross Theatre until June 19. Book your tickets here.