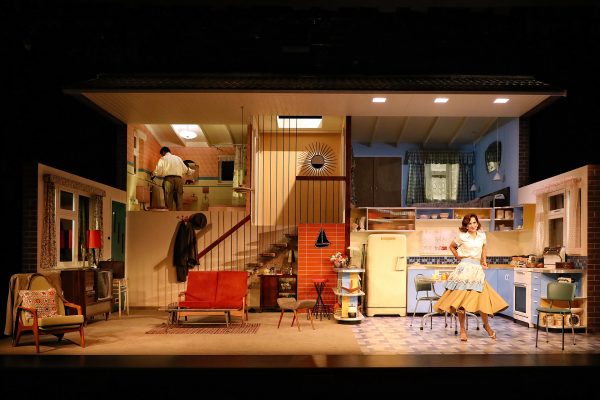 Sydney Theatre Company's Home, I'm Darling, written by Laura Wade and directed by Jessica Arthur, is a deep dive into the world of nostalgia. 
The play opens with an exquisite set design that immediately takes you back in time to the 1950s. The whole play is like being in a time machine. The only catch is we aren't in the 1950s and we come to discover that Judy and Johnny (portrayed by Andrea Demetriades and Anthony Taufa) are 1950s enthusiasts who are living in this bubble away from reality. 
The question that immediately comes to mind is "How can this be sustainable? How can you live a 1950s life in a 21st-Century world? And is it really that marvellous to live in the 1950s?".
Laura Wade's piece of work is written beautifully in two acts with just the right amount of comedic moments and wit matched with the high energy performances of the whole cast that bring this piece to life. There was not a beat missed. 
Genevieve Blanchett's set and costume design is a spectacle for the eyes and something I will be thinking about for days.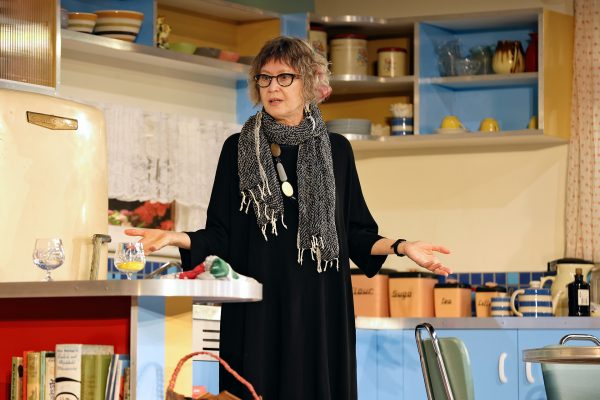 A standout moment for me was Tracy Mann as Judy's mother, Sylvia, who delivers a powerful monologue on the reality of living in the 1950s, and to paraphrase; "unless you are a white straight man, the 50s is nothing to be nostalgic about". Wade's writing does a great job at highlighting that women, people of colour, queer, and people living with a disability might not share the same experiences Judy may have had if she did live in that era, and furthermore, exposes the privilege Judy and Johnny share in being able to build this lifestyle quite effortlessly in a 21st-Century world. 
What the play does miss is what really drove Judy into this state of nostalgia. It is lightly touched on as we learn what her previous lifestyle was like and how she found joy in watching old movies with her dad, but I still found myself asking: how does someone get to this state and at this level? I left somehow wanting to know more about Judy. But, maybe Wade left that up to us to piece together in our own imaginations. 
Home, I'm Darling was a delightful night at the theatre exploring 1950s nostalgia, and I think audiences will be able to see a little part of themselves in Judy or at least get lost in the 1950s for a little bit. 
Sarah Carroll, 25 
___________________________________________________________________________
It's 6:30pm on a Monday evening at the beautiful Drama Theatre at The Sydney Opera House, and the seats are filled with eager Baby Boomers and Generation X's, waiting for Laura Wade's Olivier Award-winning play Home, I'm Darling to commence.
Act One opens to display a bright and beautiful 50s inspired two-storey house. The nostalgic track of "Mr Sandman" rings gently through the auditorium as we see Judy (Andrea Demetriades) joyfully preparing her husband Johnny's (Anthony Taufa) breakfast and work bag for the day. The highly stylised choreography of housewife Judy working in her kitchen, and the couple twirling into each other to kiss each other good morning, symbolise the overdramatic and picture-perfect façade Judy strives to implement, as even her movements throughout her house are choreographed. Not long after do we discover, via the comedic use of a MacBook laptop hidden away in a cupboard and discussions about eBay, that this play is set in the modern-day, with a couple living a fantasy inspired by the 50s. This strange experiment is clearly their attempt to hide away from the chaos and complexities of the modern world.
As we are introduced to more characters, with great performances from Judy's feminist mother Sylvia (Tracy Mann), the friends Fran (Chantelle Jaimeson) and Marcus (Gareth Davies), and Johnny's new boss Alex (Kirsty Marillier), we are bombarded with too many themes to truly comprehend and appreciate the message of Wade's text. Feminism, honesty, fear of the world, nostalgia, adultery, marriage, sexual assault and the 21st-Century are all important themes to address, but audiences are overworked and left confused about the true meaning of the play. Perhaps it was a purposeful choice, allowing audiences to choose their own interpretation, however I left the play feeling overwhelmed.
Similarly, the ever-changing physicality and lack of character arc, particularly in the ensemble characters, felt disjointed. At times, characters had huge personalities, dramatically looking out to the audience in moments of contemplation, inspired by the 50s era sitcoms, in contrast with moments of authentic and naturalistic conversations and physicality. I also wonder if two actors could play the four ensemble characters.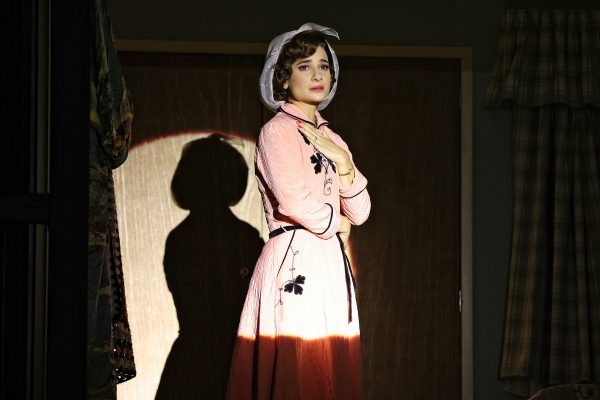 The wonderful use of a rotating stage in the final moments allows the audience to see the outside of the house for the first time as Judy and Johnny leave for work together as a couple, yet independent as people. I appreciate the symbolism using the turntable at the end of the play; however, I wish it could have been incorporated earlier. Moreover, the use of dramatic lighting with blackouts and spotlights undermines the naturalistic lighting that exists for the majority of the show.
Overall, the beautiful set, costuming and nostalgic sound are let down by the confusing lighting, lack of structure and an overbearing number of themes to consider. With such a great budget, the choice of this play feels like a letdown for the Australian main stage theatre scene.
*Please note this review is my opinion. The beauty of theatre is that audiences are encouraged to comprehend productions with their individual context, experience and worldview. I thank ATYP for the opportunity to review this play.*
Laura Campbell, 22
Sydney Theatre Company's Home, I'm Darling is playing at the Drama Theatre until May 15. Book your tickets here.