13.07.22
Golden Blood is a play centred around intimate vignettes of a brother and sister, as they navigate the implications of the unremitting bond of family.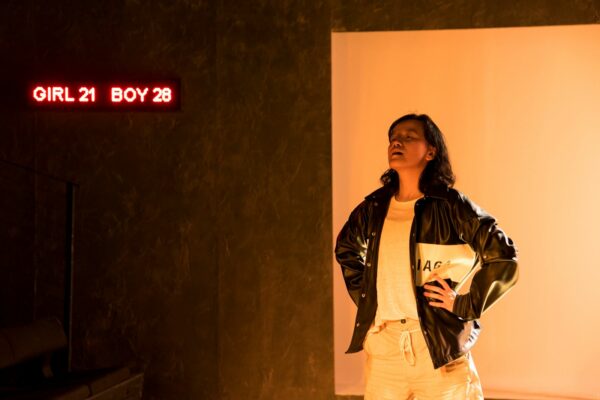 At the beginning of the show, we learn that the mother of Girl, 14 (Merlynn Tong) has died and her older brother Boy, 21 (Charles Wu) has come back into his sister's life to become her legal guardian. The play then tracks how this relationship shifts and changes as they become older in the streets of Singapore.
This two-handed production gives complete space to explore how much you can stretch the blood of a brother and sister bond. I am a younger sister myself, and what Tong did incredibly well was balance a rather unimaginable narrative with the tangency of sibling interaction. I was able to connect to the experience of having an older brother – where trust allows for bickering, and you become exposed to elements of being an adult through house parties and friendships. This relatability is then paired with an intriguing plot as they navigate gang members bursting into the doors, Ponzi schemes, and organised crime.  While Tong did this beautifully for two-thirds of the show, as Golden Blood reached its climax we were almost exhilarated by a sense of believability, and both the narrative and portrayal became somewhat lost to the audience.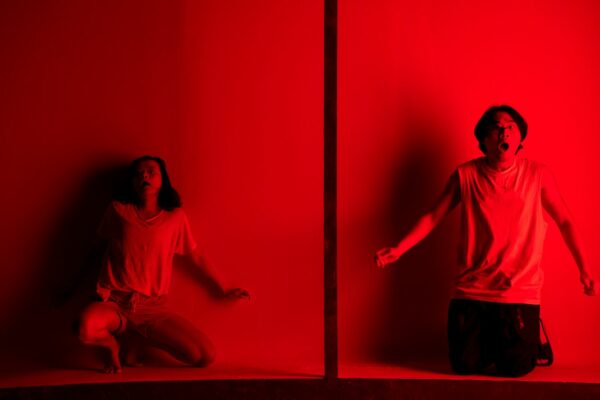 This does not take away from the beautiful simplicity of being immersed in the lives of Girl and Boy. Merlynn Tong moves effortlessly between ages as it spans between her being 14 and 35. She is able to take on the rhythm of the show by playing into a natural comedic understanding of the role. Charles Wu also does a great job of staying on pace and bringing energy to the production which fills the space effortlessly.
Together they create a wonderful dynamic that is worth watching. Overall, this is an interesting piece of theatre focused on a relationship that is not usually given space in this medium. If you have the chance to go and see Golden Blood, I would!
4 Stars.
Kate, 20 [she/her]
________________________________________________
14.07.2022
Merlynn Tong's Golden Blood follows a 14-year-old girl (Tong), and a 21-year-old gangster  (Charles Wu) who find themselves orphaned after their mother's suicide. The devastating outcomes of greed interwoven within familial bonds slowly unravel throughout this production of betrayal, sacrifice, and legacy.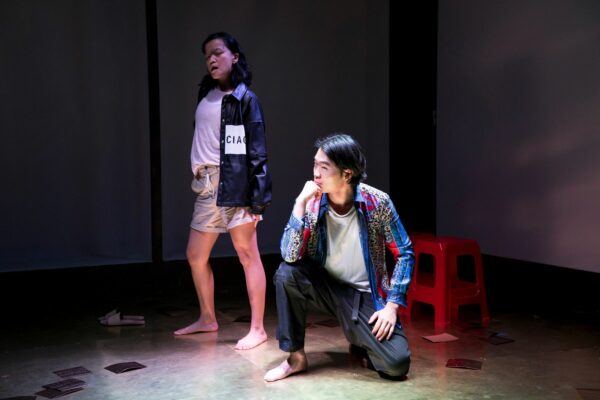 Set in a decrepit penthouse in the heart of Singapore, playwright and performer Tong's new work follows two orphaned Singaporean-Chinese siblings forced into the responsibilities of adulthood whilst mourning the loss of their mother. With only each other to depend on, we see the siblings grow closer over a period of 7 years whilst exploring Singapore's underbelly of unlawful gang activities in the hopes of creating a legacy for their family. 
Tong's writing excels in transporting audiences into the seedy world of Singapore's underbelly by incorporating "Singlish" into her quick-paced and oddly comical dialogue. In addition, despite the context of this play being set in a world vastly different for that of an Australian audience, Tong's  utilisation of Australia as a symbol of freedom for Girl allows Australian viewers to connect with the  piece. 
Director Tessa Leong fills the play with energy and a sustained pace to manifest the intense anxiety within the dire situation these siblings find themselves in. Furthermore, Michael Hankin's set and costume designs are efficiently created, whilst not sacrificing their immersive Singaporean  quality. Rainbow Chan's music and sound design effectively sustains the energy created by Tong and Wu throughout the piece within scene transitions.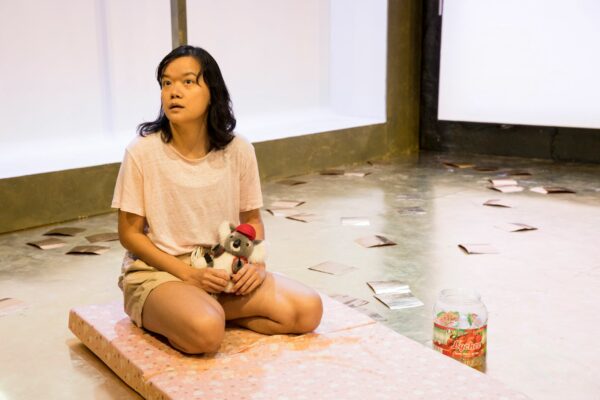 Tong's performance as Girl is incredibly riveting, as we watch her character age seven years within the 90-minute production. With nuanced characterisation, she appropriately sculpts subtle changes in her physicality and vocal tonality as she grows older. Tong transforms over the duration of this production from a naive, optimistic yet submissive, 14-year-old girl, to a powerful, confident, and poised 21-year-old businesswoman. 
Wu's performance as Boy is similarly captivating as we watch his character plunge into a parental role – despite his own naivety. Wu's comedic timing is especially appreciated by audiences, as he effortlessly absorbs Tong's dialogue. As a two-hander, Tong and Wu's chemistry as siblings is engrossing and well cast, crafting a truthful and devastating emotional journey over the course of this production. 
Golden Blood is an incredibly well-written play exposing Singapore's underbelly through the perspective of an atypical pair of orphaned siblings. 
4 Stars.
Nick, 16 [he/him]
Griffin Theatre Company's Golden Blood plays at the SBW Stables Theatre from the 24th June to the 30th July. Buy tickets here.