From Campfire to Stage Light (QLD) Review
16.07.2022
From Campfire to Stage Light is an epic journey focused on the discovery of self and Indigenous pride, as told through the life experiences of David Bindi Hudson – a well-known and loved cultural leader and global ambassador for Indigenous Australia.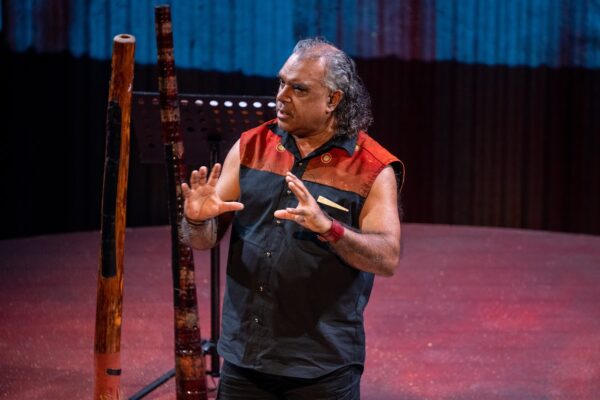 This play – directed by nationally recognised First Nations director Isaac Drandic, and with music and lyrics by Nigel Pegrum – balances both an educational but culturally diverse storytelling nature in the form of a musical-esque memoir. David is well known for his work as a cultural activist – from his experimentation as a musician and educator to his involvement in the creation of Tjapukai. This rich background is evident in all elements of storytelling in his performance. From Campfire to Stage Light brings out David's incredible strengths as a writer and storyteller, and keeps the audience on their toes from start to finish.
From Campfire to Stage Light takes the audience through an incredible journey from the traditional lands David hails from, to the international stages of the USA, India, and many more – all through the use of musical education and cultural awareness. David is an entertainer at heart, with an incredible knack for audience engagement and awareness. His involvement with the stage, his assistant band, and the audience as a whole is truly a delight to witness. The use of comedy is also fine-tuned to deliver punch and emphasis, breaking up the more serious segments and allowing the audience to see a more casual side of David shine through. Incredible lighting and visual design sets the stage for a culturally rich journey of Far North Queensland and the world.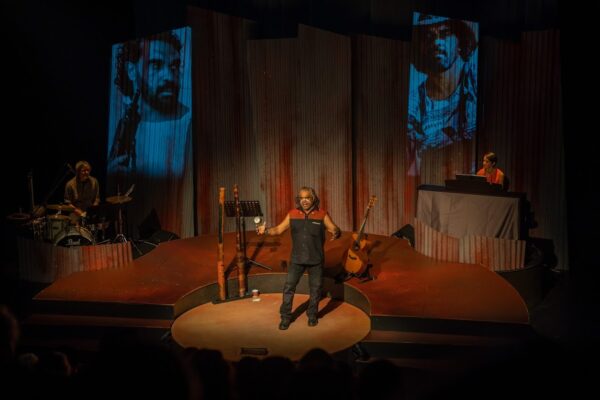 David Hudson is a storytelling mastermind, an incredible musician and an intelligent cultural teacher. His dedication to his work and love of people is evident in his performance, and he encourages audiences to listen and take on his messages told through song, dance, and speaking.
4 Stars.
Grace, 17 [she/her]
JUTE Theatre Company's From Campfire To Stage Light played at the Bulmba-Ja Arts Centre in Cairns from the 7th – 16th July.