Stabbing and Sensational – Dogged review
08.05.21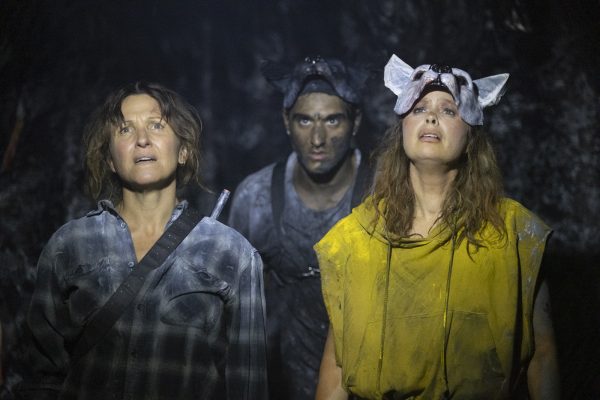 "You ever feel like you're being watched?" is the question asked to us by a stalking Dingo. Separated from her pack, searching for missing pups, she weaves through landscapes and beckons us to enter her world; a world almost lost, one of wild freedom. A dog joins her, the renegade companion of a woman also hunting through the landscape, but only to desperately cling onto the colonial dreams fed to her by her family. 
As you enter the SBW Stables Theatre, an all-encompassing buzz of cicadas and spry bird calls welcome you. Confined in these intimate walls, stories take consciousness with a beating heart, as tales and words bounce off walls and reverberate back into the audience's bones. Sentences and sounds leap through the space, transporting you directly into Gunaikurnai country. 
This is no country to be messed with, and neither are the characters that inhabit it. They struggle to protect their homes, family, and connection and fight to tell you why. 
And you can't help but listen. 
You sit on the edge of your seat, yearning to hear and feel and taste more of the Gothic landscape. And soon, this will be overflowing. Dingo, Dog and Woman yap and soar through the land, as gunshots echo all around them, and drunken city hunters, "top blokes", draw nearer with shotguns and spotlights.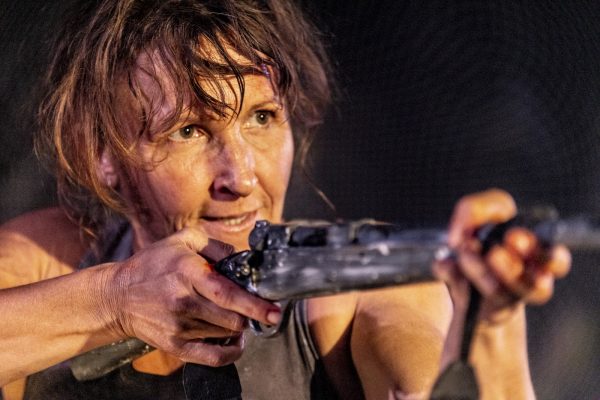 The trio, Dingo, Dog and Woman, now must confront the old lies they have been told, as well as the new truth. Australia's colonial history hangs heavy over the space, a haunting memory of our past, of Scottish convicts, bagpipes playing faintly in the distant, and a jig becomes far more sinister. Andrea James and Catherine Ryan weave a tale that will leave you spellbound and questioning your own self, as both a metaphorical and physical flashlight is shone in your face.
At the edge of the Dreaming, Dingo and the Woman stand together. Dingo peels off the charcoal black plastic covering the walls of the theatre, to reveal the beauty underneath; Vibrant colour, hidden, for so long, painted across stone walls. 
We, as a country, must now peel back our old wounds, and acknowledge what is beneath them. For too long, the truths of First Nations peoples have been silenced, as a system of discrimination continues to enforce this. 
But Dogged is a fierce cry against this. And it must be heard.
Parker, 17
___________________________________________________________________________
I have been struggling to find the words to describe the imprint this play left on me. It was a revelation and has been weighing on my conscience ever since I went to see it at Griffin Theatre Company.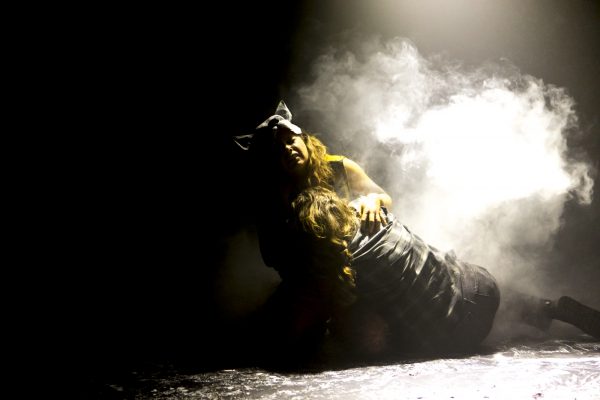 What a magnificent transformation of the SBW Stables Theatre stage! The play opens on a flock of slaughtered sheep and a farmer's daughter who is searching for the feral dog that could have killed these sheep. She is, however, not alone, and as the audience enters the dingo's den, a story of familial bonds unfolds and we are thrown into another world.
The story takes place in the lands of alpine Victoria, on Gunaikurnai country, and uses raw poetry and dance, allowing the audience to reflect upon the relationship with nature and the land that we inhabit.
Upon reading an interview with a cast member Anthony Yangoyan, I have come to understand the true veracity of the work that the cast put in. The characters would have to switch between two modes, the animal mode and their conversational dialogue, culminating in a rich physically and verbally poetic piece of theatre.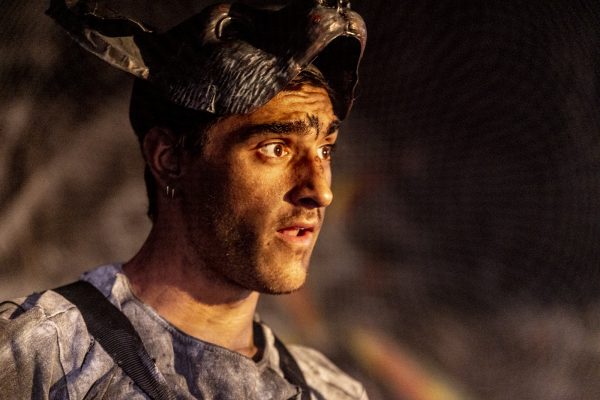 Griffin Theatre Company teams up with dance theatre outfit Force Majeure, allowing this movement-based masterpiece written by Andrea James and Catherine Ryan, directed by Declan Greene to flourish. This is unlike anything I have ever seen before.
A must watch, this play is as if Shakespeare meets gothic, with the added beauty of a true Australian story of our connection with nature.
Chiara, 17
Griffin Theatre Company's Dogged is playing until June 5. Book your tickets here.