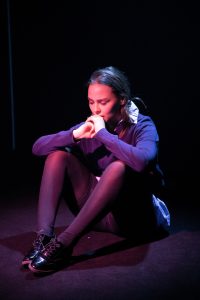 Audiences are no strangers to coming-of-age stories. Yet Dead Skin feels like a refreshing exploration of this journey through both its tangible and abstract language, and its muted, minimal design.
The dialogue, written by then 17-year-old Laneikka Denne, feels like you're listening to real 17-year-olds. The characters of school best friends Andie (Laneikka Denne) and Maggie (Ruby Maishman) capture the uncomfortable yet carefree nature of youth, which are elevated by the performances and reel you into the scene. The teenage characters capture the awkwardness and uncertainty we often feel as young adults, and likewise revel in the bold and delightful fizzing of energy you feel when you're joking around with your closest friend and lover.
The realism is briefly interrupted by abstract text that explores the inner psyche of the characters. The change in language is sparse enough that it doesn't take you out of the fiction, yet instead highlights the characters' inner thoughts and feelings, helping us as an audience to empathise with them.
The plot is carefully revealed, allowing the audience to slowly discover the unique relationships that each character has with one another, which in turn rely heavily on the actors to shine and embody the storytelling. This is notably achieved by Abe Mitchell as Henry, who engagingly portrays the difference in time for his character through the subtle change of his physicality and the energy he brings into scenes.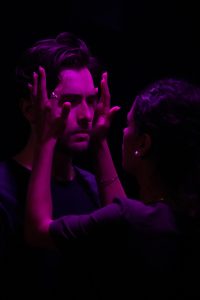 Often in coming-of-age stories, the parents are seen as obstacles: weights that are holding us back from being who we want to be. Dead Skin flips this trope and explores how one can identify themselves through their parents, and in this instance, through the gap where a parent should be.
Throughout the whole performance, I found myself identifying many types of love – first love, new love, risky love, forbidden love, awkward love, parental love, love through grief – to name some. Only in the final scene did the word 'understanding' arrive in my head as a hug occurred between two characters. To me, the play feels like an exploration of what we're all searching for as human beings – to feel love and to feel understood – told through the eyes of vulnerable, passionate youth where it feels like you have both everything and nothing to lose.
Olivia, 21
___________________________________________________________________________
Dead Skin is a quirky, relatable play about the ins and outs of toxic relationships, teenage growth without a mother and queer relationships. This play was extremely expressive of diverse teenage struggles covering a broad range of topics. Not only did each character have differing personas, but all faced different struggles that impacted them and shaped their personality. The destructive relationships – platonic, intimate and romantic – all exposed the different character traits and challenges of growth battles each character faced. There were mind-scrambling, perplexing crossovers of time where the interaction between Andie and Andrea created a beautiful harmony, showing how similar they are but at the same time how many of their characteristics are polar opposites.
The use of teenage cultural language made the play feel very authentic and realistic, almost as if you were watching someone's life unfold as opposed to watching a play. The evocative language may have seemed unnecessary at times, however it provided characterisation for some characters, helping the audience identify them as Australian students. The costumes, although kept simple and basic, were very expressive and reflected their character and made them easily identifiable. For example, Andie's outfit seemed incomplete and incohesive, which to me reflected the depths of her brain and her journey of sexuality.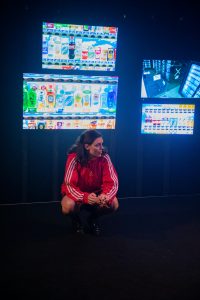 The simplicity of the set with limited props allowed the audience to focus more on the actors themselves rather than their surroundings. The facial expression of each of the actors were so diverse and extremely expressive – their eyes alone allowed them to express emotion and reflect how they reacted to certain things without interrupting the flow of the scene or even saying anything. The title, Dead Skin, was extremely poetic, mirroring a key moment in Maggie and Andie's relationship.
Laneikka Denne and Ruby Maishman delivered strong performances as Andie and Maggie respectively. Denne drew the audience in with her evocative exploration of Andie's past emotional traumas. Maishman, on the other hand, gave a natural, childlike, flowing performance which made the interactions between herself and Andie seem raw and real rather than forced.
Jess, 15
Dead Skin presented by White Box Theatre is playing at Kings Cross Theatre until April 17. Book your tickets here.