15.07.22
Across the stage screams bellow. Bodies twist and turn, the actors squirming for something unknown. Emitting its own strange sense of unease, the stage is cluttered and tangled, intensified by flickering lights illuminating only the most haunting of images.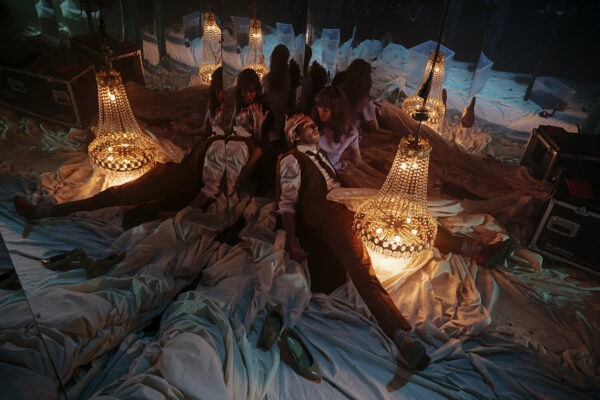 Burn Witch Burn, directed by Claudia Osbourne, was a master at its presentation. It created pictures so thoughtfully put together that it could do nothing more than hold each audience member's full attention. Simply by watching the show the audience was transferred into a world of horror, strangeness, and intrigue. Veronique Benet and Chrysoulla Markouli did their jobs despicably well. There was a genuine sense of awe in the theatre due to the completely enrapturing and breathtaking atmosphere. There was a definite abstract nature to the whole show. Actors would lurk around the stage, breathe into microphones, and scream as they climbed into boxes on the floor.
Adapted from the original 1962 movie called 'Night Of The Eagle", Burn Witch Burn's occasional plot follows the story of a married couple. The husband, Norman (played by Alex Packard), appears to be doing exceedingly well at work. People seem to like him, love him in fact! However, it soon becomes apparent that the only reason they do this is because of his wife Tansy's (played by Alex Stamell) witchcraft. Norman, being a narcissistic nonbeliever, destroys all of his wife's spells in a frightening rage, claiming they have nothing to do with his success.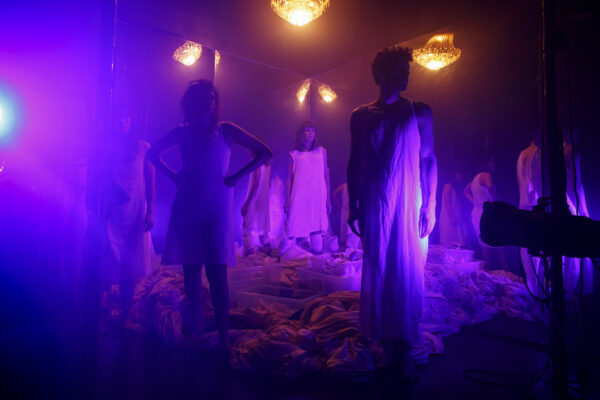 Surprisingly, this story was minute compared to the rest of the production. It was only told at the beginning and end of the performance, through high-energy monologues and scenes. The majority of the show instead focused on its more physical aspects, making it feel closer to an interpretive dance rather than a play. While it was extraordinarily fascinating to watch, it left most audience members feeling as though they only ever touched the surface of something more meaningful. Not quite let in to see the full extent of what was possible. One could tell that there was perhaps meaning attached, but it never felt open to interpretation, nor did it feed one the answer to its riddles.
But perhaps one of the oddest attributes of this production was the very end. After an enthralling, powerful performance, the entire cast sat down and began talking to each other in mumbling, inaudible voices. After what seemed like five minutes, half the audience clapped, unsure if it was the end, and then an audience member nervously got up to open the door and let everyone out – the actors still chatting to each other on the stage. The audience then gave them another round of applause and stumbled out, very confused. Unsatisfied and uncomfortable energy filled the space. Most people felt as though the show was unfinished, and were disappointed to not be able to give the clearly talented cast a proper round of applause. It also seemed an awkward way to finish such an intense and powerful show.
Burn Witch Burn was most certainly a strange show, but incredibly rewarding nonetheless, and definitely worth seeing if you're prepared for something a little more out there than most.
3 and a half stars.
Astra, 16 [she/her]
Fervour's Burn Witch Burn plays at The Old Fitz Theatre from the 7th to the 30th July. Buy tickets here.