13.04.22
Eye Contact Theatre Company's Breathing Corpses (by Laura Wade) has finally gotten its run and honestly all I can say is thank goodness it has! This show has had a very bumpy road to the KXT stage, having suffered two cancelled seasons due to the old covid cough and while still facing cast members going down with the dreaded virus during their run, this show has had a very unlucky time.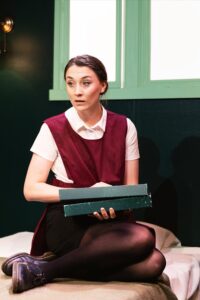 If I wasn't impressed enough by the brilliant writing from Laura Wade, impeccable direction from Jess Davies and the stellar cast performances overall, knowing the hurdles that this team has had to overcome honestly makes this show all the better.
The passion and dedication this team has had towards this show and towards each other is truly inspirational and believe me it shows; through an incredible production.
The story goes as follows: across the city, three people are connected by a gruesome discovery – even if they don't know it. Amy (Emma Wright), a hotel cleaner, discovers her second dead body on the job. Jim spirals into a post-traumatic depression after discovering a dismembered body in one of the storage units he hires out. Kate (Nisrine Amin) lashes out violently at her boyfriend and his dog after stumbling across a body on her morning walk.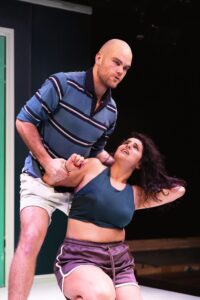 This is a story about actions and consequences, and how the consequences of one's actions can lead to a rippling effect on another; an effect you may not even know you have made. It's an exploration of life and death and of those who have (literally) stared death in the face and how they go on (or don't go on) after that poignant moment.
For a piece so focused on death, I was surprised at the amount of laughter that could be heard throughout the KXT theatre. The cast is incredible across the board and the chemistry between all cast members is undeniable throughout all scenes. The set design is simplistic yet innovative with transformational props that easily transport you from one location to the next. This is only amplified by the brilliant use of lighting and sound which effectively add to the gravity of the situations being explored.
Breathing Corpses is genuinely one of the best pieces of theatre that I have seen in a long time and I could not recommend it more. If you missed your chance, I'm sure this is not the last we will be seeing of the brilliant Eye Contact Theatre company team.
5 Stars 
Tahlia, 21 (She/Her) 
Eye Contact Theatre Company's Breathing Corpses played at Kings Cross Theatre from the 8th to the 23rd April.