03.06.2022
Theresa Rebeck's Bernhardt/Hamlet directed by Lee Lewis starring Angie Miliken is a joyful and captivating production and one to see come hell or high water.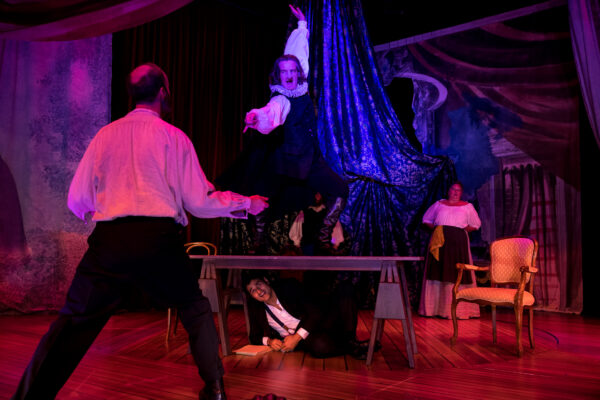 Miliken commands the stage with an engaging presence that draws the audience into her complex performance. Not only has she become Sarah Bernhardt, but she has become Sarah Bernhardt becoming Hamlet, and she does so with nuance and intelligence. The audience is met with a charming an eccentric figure whose narcissism and ego are worn on her sleeve and are left with questions. Do I like this person? And, Why can't I take my eyes off her? The depth Miliken's performance discomforts the audience. Bernhardt's expectations and assumptions, of her friends, family, and lovers are on full display in the most confronting glorious way. The stage is lit and set and moved with such specific intricacy that its beauty cannot be understated. It adds grandeur to match the illustrious personalities of our players and controls them all the same.
Some performances I would like to lift up specifically are those of Amy Ingram's Lysette/Ophelia – who's unmatched physical comedy occupies the audience's mind and heart for hours afterwards – and Wendy Mocke's Rosamond, whose grace and dignity completely subverts common representations of the betrayed wife. In addition, Gareth Davis and Leon Cain as Raoul and Francois breathe such whimsy and life into every corner of the theatre, and are always something fun to look at during Hamlet's droning speeches.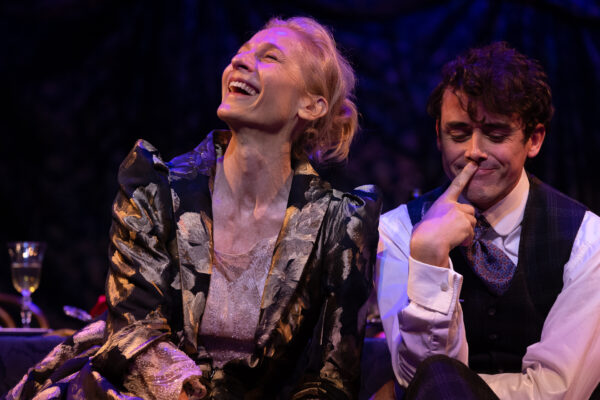 The stunning production unfortunately loses its way in its final scenes. The excerpt of Cyrano, while initially intriguing, is drawn out to the point of confusion and lacks utility compared to the intricate narrative of the first act. The very final scene doesn't quite break the fourth wall but instead – in an unsatisfying way – chips at it with footage of the actual Sarah Bernhardt as its final beats. Despite this, Bernhardt/Hamlet is a joy for the eyes and mind sure to be enjoyed by the literature lover and layman alike. Lee Lewis alongside her engaging cast and incredible crew should be commended for a delightful piece of intriguing theatre.
4 Stars.
Ewan, 17 [he/him]
________________________________________________
A delightful and intriguing play, Bernhardt/Hamlet isn't a traditional Shakespearian play on its own, however, it bears many similarities to the original stories. Written by Theresa Rebeck and directed by Lee Lewis, with a running time of 2 hours and 45 minutes, the play moves extraordinarily fast thanks to the mastery of the crew and cast.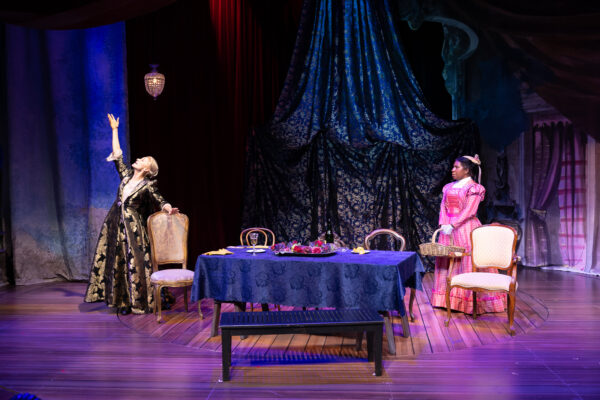 Angie Milliken put on an incredible performance when portraying complex actress Sarah Bernhardt. With complete control, Miliken was able to connect with the audience's hearts and minds. Although only a short scene, Wendy Mocke's portrayal of Roasmond left a lasting impression when she came face-to-face with another character (which I won't spoil for you!). All of the members of the ensemble were superb and there were plenty of tears, laughter, and discoveries thanks to their performances. Leon Cain is an obvious example of bringing levity into a number of laugh-out-loud moments. Milliken's outstanding performance is further accentuated by the whole ensemble.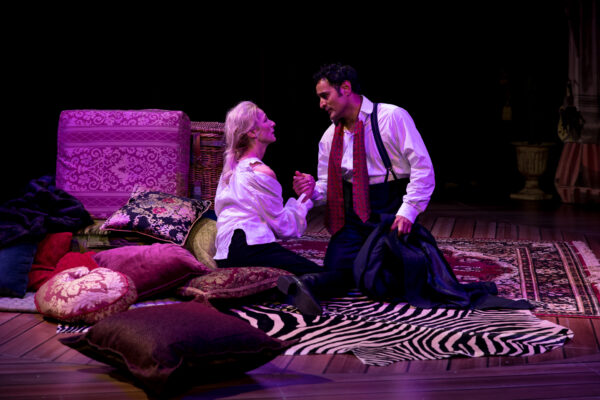 During the play, there was some imaginative staging, where the stage seemed to change and move as the characters did to illustrate profound discoveries. These were particularly eye-catching moments to witness! As the story progressed there were wonderful dramatic moments of tension, where the stage was ablaze with action and something always happened to propel the story forward. Not a dull moment was to be found. Ultimately, these elements served the story, which was not only an exciting experience, but it challenged the audience and made them think about what happened at the end. What a magnificent experience! The play is definitely recommended!
5 Stars.
Mannon, 22 [he/him]
Queensland Theatre Company's Bernhardt/Hamlet plays at the Bille Brown Theatre until the 18th June. Buy tickets here.