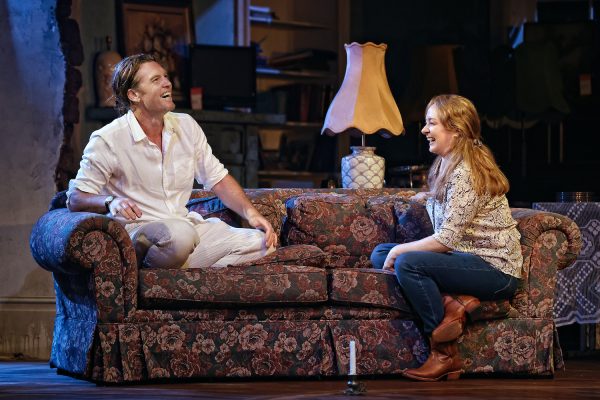 Appropriate, written by Branden Jacobs-Jenkins and directed by Wesley Enoch, is a family psychodrama based on the kind of acrimonious dynastic conflict that can happen when a large fortune is at stake. While there is certainly dark comedy and meaty issues of political and familial power relationships, there is also an underlying examination of American history.
In a crumbling plantation in Arkansas, a family is reluctantly thrown together to grieve, reflect and organise their late father's home and its belongings.
Wesley Enoch is keen to give the audience a vivid impression of the ongoing untidiness of reality. Often, the director simply charts the seemingly chaotic dynamics of two or three people over a period of time, with few if any "big" dramatic events (until the very end), and instead focuses on the raw conversation. The most impressive part of this is that the play can also make you laugh in the process…
The play has a tell-it-like-it-is social commentary that involves exaggerations of social truths that audiences immediately recognise.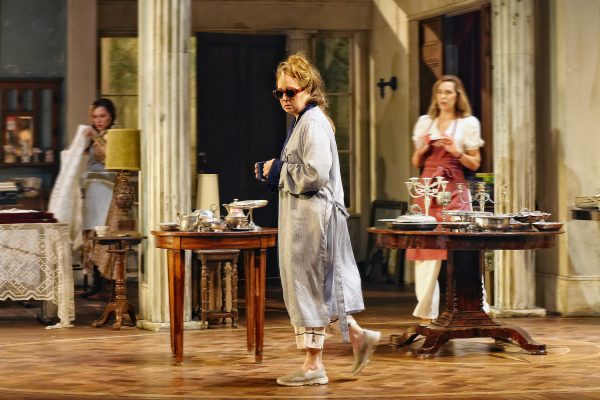 Among the cast, I was struck by Mandy McElhinney as Toni and Johnny Carr as Franz in their raw, comical roles. They were incredibly funny and made excellent use of the scripted light-hearted moments. Through their acting skills – and the script – we are also able to see their deeper and darker side. Sam Worthington portrays Bo with a very subtle, visceral and effective performance.
Appropriate offers memorable images thanks to Elizabeth Gadsby's design, some excellent and witty dialogue thanks to playwright Branden Jacobs-Jenkins, and some astonishing performances from a very good cast. Enoch's masterful direction enables all these elements to shine.
Mannon, 21
___________________________________________________________________________
Set in a deteriorating plantation house in America's south, Branden Jacobs-Jenkins' Appropriate tells the deeply emotional and tumultuous reunion of a family contending with a troubled history no one wanted to uncover. Directed by Wesley Enoch for Sydney Theatre Company in the Roslyn Packer Theatre, this play features a powerhouse of a cast whose riveting performances make for an exciting night out.
The ear-piercing shrieks of cicadas that open the show set the overall tone for the night; a rumble of underlying tensions simmering to the surface. The story follows siblings Toni (Mandy McElhinney) a resentful eldest daughter, her all-business brother Bo (Sam Worthington) and the outcast Frank, now 'Franz' (Johnny Carr) who in the wake of their father's death, have all found themselves together preparing for an estate sale in their father's decrepit house.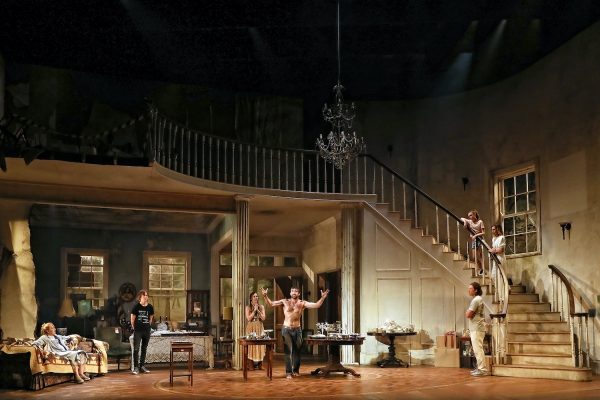 Not only is the play's title rich with double-meaning, but so are the characters' conflicting memories of their father, each one painted by their own traumas and experiences. It's powerful to watch Toni's unwavering allegiance fight to preserve her father's memory whilst competing with the damning evidence suggesting otherwise. With thought-provoking dialogue, Jacobs-Jenkins explores a reunion that forces us to confront the consequences of deeply-ingrained prejudice in manners both painfully raw and at times, highly comical, carefully balancing light and shade to astonishing results.
One of the unquestionable standouts of the night is the incredibly rich complexity and detail of designer Elizabeth Gadsby's set coupled with Trent Suidgeest's detailed lighting. A house haunted by history that's built on the foundations of a slave graveyard, Gadsby manages to create an environment using the undercurrents of its dark historical past, the rotting foundations acting as a mirror to the uncomfortable truths this family now must come to terms with.
Overall, this intense drama does what every playwright sets out to do, it forces an audience to reflect and consider our own experiences, raising the play's pivotal question: how do we sit with the confrontational truths of our past? In the wake of the Black Lives Matter movement, this question seems all the more poignant. Though the play is intrinsically linked to America's dark history of systemic racism, as an Australian audience we should consider our own troubled past and how that question sits within ourselves.
With an energetic cast and a set to match, this is definitely a play not to be missed!
Bridget Gielissen, 23
Sydney Theatre Company's Appropriate is playing at the Roslyn Packer Theatre until April 10. Book your tickets here.