By the writers of the 2016 National Studio
.
Director
Katrina Douglas
Winner of 2017 GLUG Award for the Most Outstanding Production for Teenagers!
It's formal night and Jerry stands on a hill, high heels in hand. A young woman heads to a party dressed as a blueberry.  Stuart plays at the arcade to win a slime-green lava lamp instead of concentrating on the problem at hand. What connects them is not time, it's place.
Intricately drawn by Australia's leading young writers, Intersection is a collection of short stories playing out across the same town, creating a  glorious map of the connections we form and the experiences we have when we're 17.
Each year ATYP brings together 20 young writers from across the country, and challenges them to create stories that speak to the experience of being a young person in Australia, here and now. Expanding on the popular Voices Project, Intersection features heartbreaking, funny and powerful interactions between characters coupled with complex and beautiful monologues to create a compelling snapshot of life at 17.
ATYP will continue the relationship with Currency Press, which will publish the pieces so they can be performed by young people for years to come.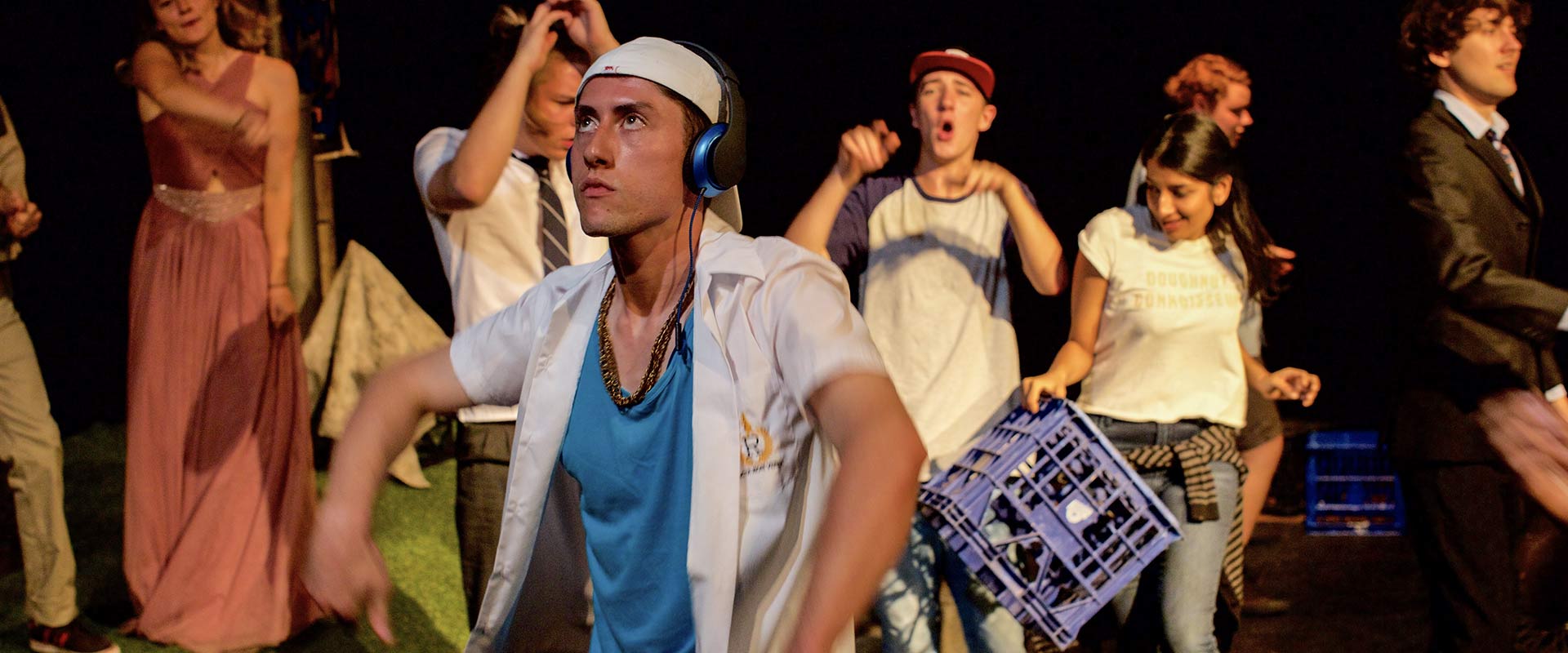 National Studio 2016
Angela Collins, Farnoush Parsiavashi, Thomas De Angelis, Brenden Snow, Eliza Oliver, Peter Beaglehole, Louis Klee, Zoe Ridgway, Michelle Sewell, Isabella Jacob, Suzannah Kennett-Lister, Honor Webster-Mannison, Kevin Ngo, Laura Lethlean, Jordan Shea, Mark Tripodi, Lewis Treston, Anita Sanders, Isabelle McDonald, Jackson Used, Charles  O'Grady,
Mentors
Mary Anne Butler, Sue Smith and Angus Cerini
Cast
Jackson Williams, Hudson Musty, Rebecca Gulia, Elliott Falzon, Adam Stepfner, Kurt Pimblet, Esther Randles, Alex Chalwell, Darius Williams, Iris Simpson, Alex Chorley, Sonia Elliott, Tamara Bailey, Ilai Swindells, Ingrid Leighton, Steffan Lazar, Monica Kumar, Asha Boswarva, May Tran.
Image
Luke Stambouliah
Design
Justin Stambouliah
Actor
Moreblessing Maturure (not performing in the production)
Hair & Makeup
Sophia Lee