03.06.21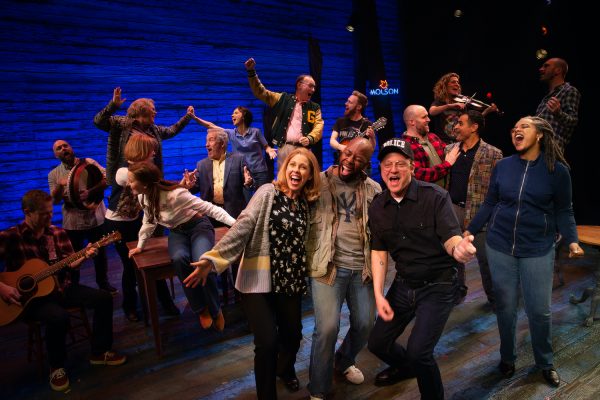 Come From Away tells a story about a town called Gander in Newfoundland, Canada, a town which on September 11th had to accommodate over 7,000 passengers from across the world. Due to the events that occurred on September 11, all passenger planes were diverted to Gander as the United States closed their airspace. The musical takes us through the stories of both the people from the planes and town locals as they navigate their way through a post 9/11 world.
With what can be described as a classic style of theatre with modern folk music, a unique set design and an extremely talented cast of 12, Come From Away has created a fresh and inclusive new formula to add to the world of musical theatre. The diversity of the cast and the simplicity of the set design were two features that set this musical apart from other mainstream musicals. The actor's abilities were truly showcased as they had to tackle multiple roles, yet were able to seamlessly transition from one role to another. They could be a man on a plane one minute, then with a switch of a hat or the donning of a jacket, a carefully crafted lighting transition and a change in accent, they were suddenly a local police officer on the ground.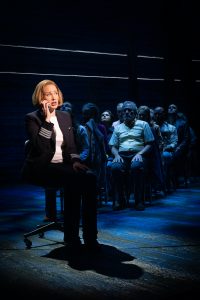 The choreography really helped convey the story and set the tone, whether the cast were jostling their bodies to mimic being in a bus, or gliding on a plane, or dancing a merry jig in the pub. With no set protagonist and a diverse cast, it is suitable for all ages and walks of life. Although the story is centred around the tragic events that occurred on September 11, the show contains some lighthearted moments and jokes which sparked laughter within the audience. The musical shows how the town of Gander demonstrated the kindness of people in such tragedies and how they were able to set aside their own lives to help make thousands of strangers feel at home. They are what we should all hope to be. In a world full of intolerance and judgment, the passengers were able to find something they never knew they were looking for in the unlikeliest of places, acceptance. The musical was one to remember and conveys a message that everyone should hear, especially now, in a world that is suffering from a global pandemic, Come From Away inspires you to appreciate what is around you and to lead with kindness.
Madison, 16
___________________________________________________________________________
Come From Away. Where to even begin. This is one of the most brilliant, uplifting, heart-wrenching shows I have ever seen, it has quickly and easily become a favourite of mine. The moment the drums start beating in the opening number the audience become completely enthralled as the actors enter the stage to share this wonderful show and the true story of those stranded in Gander, Newfoundland during the horrors of 9/11.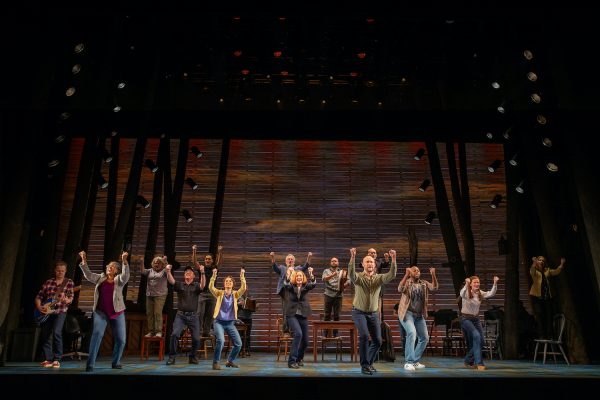 The writing and orchestration of this show without a doubt is one of the most lyrical and succinct shows in theatres right now. It tells the story of not only "the plane people" but of the Ganderits who welcomed 7,000 passengers into their homes, keeping them safe, fed and entertained during a time most remember as being a truly horrible moment in the world's history. Whilst the show centres around this truly awful event, it is a show that brings light to the power of human connection, and what we can do when we come together to help our fellow man.
There are many stories interwoven into this show and they all have their moments to shine, giving the audience an opportunity to see the experience from many different points of view and understand the effect it had on people from all around the world. Some of the stand out performances from this production I would have to say are Emma Powell as Beulah and Sharriese Hamilton as Hannah. These two women portray total opposites yet are drawn to one another and share what I believe to be the most heart-wrenching moment in the entire show.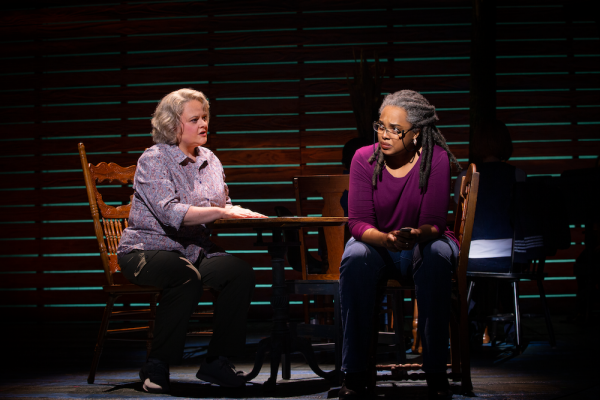 Whilst the show is mainly set in 2011, there are many parallels that can be drawn back to 2020 during the height of the coronavirus – the isolation and fear felt when as a world we were faced with a situation we had never experienced in our lives, and how theatre came together as a community to help our fellow artists get through. We continue to do so today.
This shows leaves not a dry eye in the house and rightly so. I believe everyone should see Come From Away, regardless if you are a musical lover or not. It is a story I believe everyone should have the opportunity to experience and see what true, raw human connection looks like and the impact it can have on the lives on thousands.
Victoria, 23
Come From Away is playing at the Capitol Theatre until August 22. Book your tickets here.